Zanbeel Baby Home Safety Gate Window Guard Rail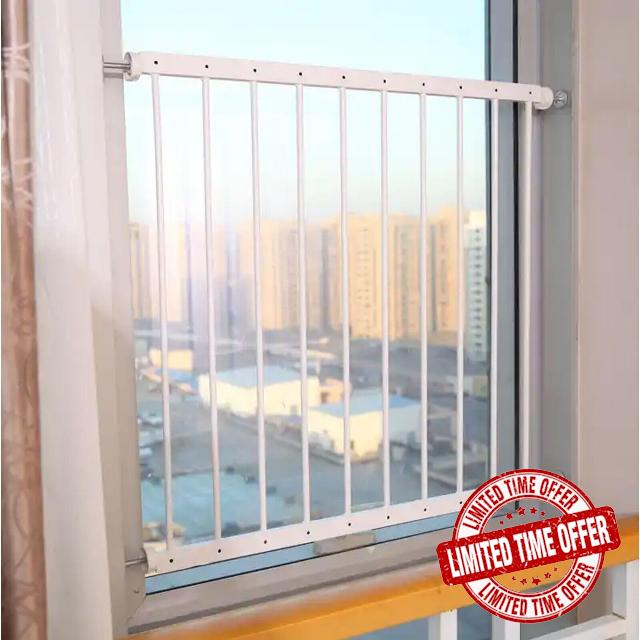 Zanbeel Baby Home Safety Gate Window Guard Rail Pet Dog Stair Fix Barrier,Child Window Guards, Punch-free Fence, Home Bay Window Safety Railing (87-145cm)
Multi-Purpose Design: Emphasize that this safety gate serves multiple purposes, including childproofing windows, protecting pets, and acting as a stair barrier.
Safety for Babies: Highlight that the product is designed to provide a safe environment for babies and toddlers, preventing them from accessing dangerous areas.
Window Guard Rail: Mention that it can be used as a window guard rail, ensuring that children and pets are safe around open windows while allowing fresh air to circulate.
Pet-Friendly: Indicate that it's pet-friendly, making it suitable for households with dogs or other pets. The gate keeps pets from accessing certain areas.
Punch-Free Installation: Promote the fact that it can be installed without the need for punching holes in walls or frames, preserving the aesthetics of your home.
Baby Home Safety Window Guard Rail for Pet Gate Stair Indoor Barrier 87-145cm Are you always worried that your baby will climb up to the window and be in danger of falling? But our safety window guard designed for babies can easily solve this problem. This safety guard is made of hard and solid iron, so it is highly Arial-resistant. It can prevent babies from accidental falls. Moreover, the safety window guard is quick and easy to install and you can install it by yourself. Keep Children Safe: Window edges on high floors are dangerous for children. But this safety window guard increases safety by the window. The window guard prevents the babies and children from falling out of the window. This safety window guard is made of very hard and strong iron, so it is very durable. It will not easily damage or deform even after a long time of usage. The exterior baking paint process makes it even more anti-corrosion and anti-rust. So you can buy it with confidence. The load-bearing capacity of the safety window guard is 110 pounds. So it will not be easily damaged and deformed and can withstand most children's weight. The appearance of this safety window guard is very simple and stylish. The simple white lines design suits most decoration styles. So it is fitful for many windows. It can also be a decoration of the window. This safety window guard is installed without punching holes. By turning the spiral screws on both sides, you can install the guard directly on the window without wall damage. This safety window guard can be installed horizontally or vertically, so you can choose the right installation direction according to the shape of your window. This guard does not interfere with the ventilation of the window at all. The cut-out allows air to circulate freely. So you will still have fresh air in your room even if it is fitted. This safety window guard is very easy to clean. You can simply wipe off the surface stains with a wet towel or remove the guard and w
Legal Disclaimer
Baby Home Safety Window Guard Rail for Pet Gate Stair Indoor Barrier 87-145cm Are you always worried that your baby will climb up to the window and be in danger of falling? But our safety window guard designed for babies can easily solve this problem. This safety guard is made of hard and solid iron, so it is highly Arial-resistant. It can prevent babies from accidental falls. Moreover, the safety window guard is quick and easy to install and you can install it by yourself. Keep Children Safe: Window edges on high floors are dangerous for children. But this safety window guard increases safety by the window. The window guard prevents the babies and children from falling out of the window. This safety window guard is made of very hard and strong iron, so it is very durable. It will not easily damage or deform even after a long time of usage. The exterior baking paint process makes it even more anti-corrosion and anti-rust. So you can buy it with confidence. The load-bearing capacity of the safety window guard is 110 pounds. So it will not be easily damaged and deformed and can withstand most children's weight. The appearance of this safety window guard is very simple and stylish. The simple white lines design suits most decoration styles. So it is fitful for many windows. It can also be a decoration of the window. This safety window guard is installed without punching holes. By turning the spiral screws on both sides, you can install the guard directly on the window without wall damage. This safety window guard can be installed horizontally or vertically, so you can choose the right installation direction according to the shape of your window. This guard does not interfere with the ventilation of the window at all. The cut-out allows air to circulate freely. So you will still have fresh air in your room even if it is fitted. This safety window guard is very easy to clean. You can simply wipe off the surface stains with a wet towel or remove the guard
| | |
| --- | --- |
| SKU: | B0CLH6H1LF |
| Dimensions: | 87 x 87 x 145 cm |
| Model: | ZE-Safety Gate Window-01UK |