Xbox Wireless Controller – Gold Shadow Special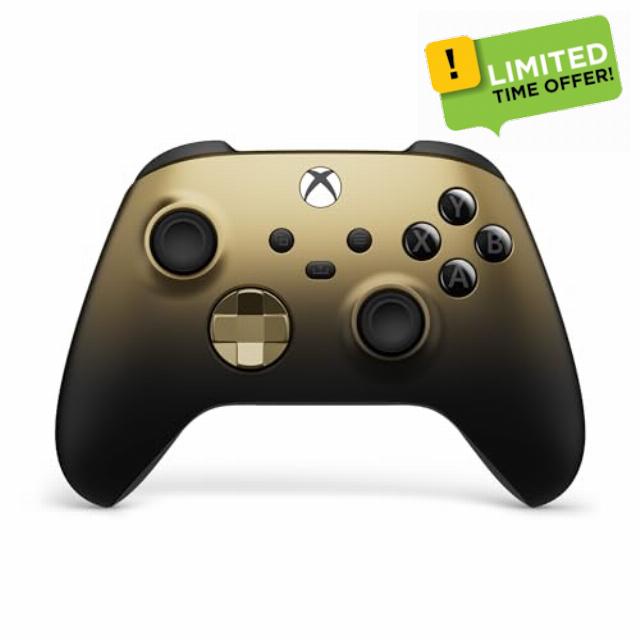 Xbox Wireless Controller – Gold Shadow Special Edition for Xbox Series X|S, Xbox One, and Windows Devices
Werde zum Leuchtfeuer in der Finsternis mit dem Xbox Wireless Controller – Gold Shadow Special Edition mit einer brillanten Gold-Schwarz-Metallic-Lackierung. Spiele auf Konsole, PC und Mobilgerät
Auch bei Action immer auf Zielkurs – dank der gummierten schwarzen Seitengriffe mit Rautenmuster und der Strukturierte Griff-Fläche an den Triggern, Bumpern und hinten am Gehäuse
Einfaches Koppeln und Wechseln zwischen Geräten wie Xbox Series X, Xbox Series S, Windows PC, Android und iOS
Enthält Xbox Wireless- und Bluetooth-Technologie für kabelloses Spielen auf Konsolen, PCs, Mobiltelefonen und Tablets. An die 3,5-mm-Stereo-Headsetbuchse kannst du alle kompatiblen Headsets anschließen
Dank der neuen Share-Taste kannst du Screenshots und Videoclips während des Spiels mühelos aufnehmen und teilen
Shine from the shadows with the Xbox Wireless Controller – Gold Shadow Special Edition, featuring a brilliant gold-to-black metallic finish. Play on console, PC, and mobile. Stay on target with an elegant gold, metallic hybrid D-pad. Hold on to all the action with rubberized, black diamond-pattern side grips and textured grip on the triggers, bumpers, and back-case. Seamlessly capture and share content such as screenshots, recordings, and more with the Share button. Connect using the USB-C port for direct plug and play to console and PC. Support for AA batteries is included on the rear. Get up to 40 hours of battery life. Plug in any compatible headset with the 3.5mm audio jack. Use the Xbox Accessories app to remap buttons and create custom controller profiles for your favorite games. Quickly pair with, play on, and switch between devices including console, PC, and mobile.
---
From the brand
Gaming is a staple of modern-day culture. It has the power to bring people together as part of a community and connect them through shared experiences.
With nearly 400 million players with disabilities in the world, it's important to create gaming experiences that are inclusive and accessible by design for as many players as possible. Our Games and Console include features that support visual, hearing, mobility and cognitive accessibility.