Wadan 16 Mats 60x60cm Grey Wood Effect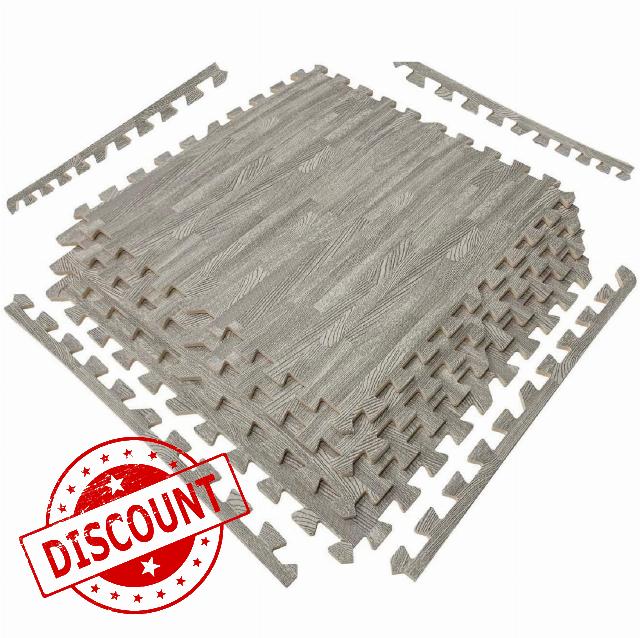 Wadan 16 Mats 60x60cm Grey Wood Effect Interlocking Floor Mats Exercise Mats Gym Flooring Mat, Interlocking Puzzle EVA Floor Tiles, Cushion for Home Workout, Yoga Matting EVA Foam-Rubber Non Slip Tile
Durable Interlocking EVA Foam Mats: Explore Wadan's latest EVA foam mats, designed for durability and easy installation. These mats are engineered to withstand frequent use, maintaining their quality over time. The interlocking mechanism ensures a secure fit, making them an excellent choice for exercise spaces or beneath workout equipment.
Versatile and Safe: Wadan's mats feature a non-slip finish and water-resistant surface, prioritizing safety and convenience. Whether you're creating a home gym or outfitting a commercial fitness center, these mats offer a stable foundation for workouts, minimizing the risk of slips and moisture-related accidents. The comfortable texture also offers support for children who are learning to walk.
Stylish and Functional Flooring: With a distinctive foam puzzle design, Wadan's mats combine practicality with aesthetics. Sized at 60 cm x 60 cm and 1 cm thick, these tiles create a visually appealing, non-toxic, waterproof flooring solution suitable for various spaces, from homes to businesses.
Tailored to Your Needs: Choose from a variety of configurations to suit your space. Options include 4pc (16 sq. ft), 8pc (32 sq. ft), 12pc (48 sq. ft), 16pc (64 sq. ft) and 32pc (128 sq. ft) sets. This versatility allows you to cover your desired area while ensuring a secure and consistent fit.
Customer Satisfaction: At Wadan, customer satisfaction is a priority. If you encounter any concerns, their dedicated support team is ready to assist. Reach out through the order page, and they'll promptly address your queries. Committed to a seamless experience, Wadan offers a full refund or replacement for any product-related issues, ensuring you're fully content with your purchase.
Elevate your space with Wadan's premium EVA foam mats, a versatile and stylish flooring solution that seamlessly combines durability, safety, and aesthetics. Crafted for enduring performance, these interlocking foam mats feature a non-slip finish for stability and a water-resistant surface for easy maintenance, making them ideal for various settings, from home gyms to play areas. The thoughtfully designed foam puzzle pattern not only adds visual appeal but also ensures a comfortable and non-toxic surface. With options like 4-piece to 32-piece sets, Wadan offers adaptability for any space. Count on Wadan's commitment to customer satisfaction, with a dedicated support team ready to assist through the order page. Elevate your surroundings with Wadan's EVA foam mats, where durability, safety, and style converge flawlessly.
| | |
| --- | --- |
| SKU: | B0CGVPDXBG |
| Brand: | Wadan |
| Colour: | Grey Wood Effect |
| Colour: | Grey Wood Effect |