USA Gear Hard Shell DSLR Camera Case with Molded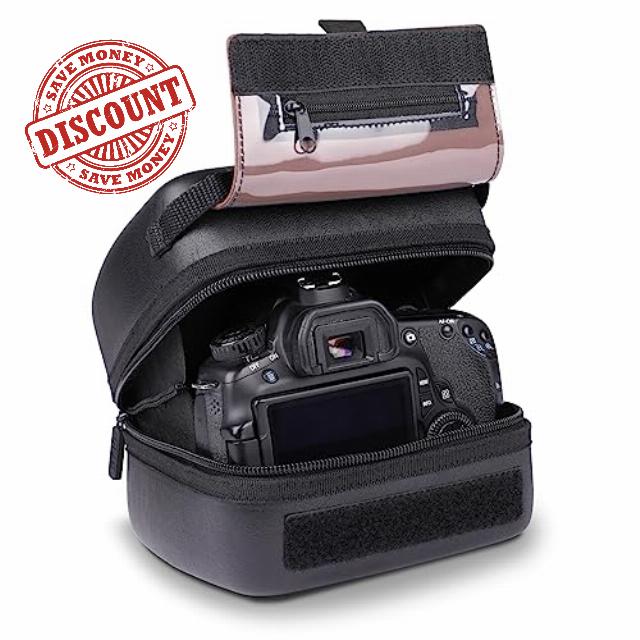 USA Gear Hard Shell DSLR Camera Case with Molded EVA Protection, Quick Access Opening, Padded Interior and Rubber Coated Handle (Black Vegan)
EGG CRATE FOAM INTERIOR snugly holds your DSLR and lens in this solid hard shell case that protects them from bumps, scratches and dust. No matter where you go, your camera gear is safe and sound.
DURABLE, REINFORCED DESIGN is constructed with durable, quality molded EVA material and cushioned interior. This rugged case conforms to the body & lens of your camera for premium protection
SECURE AND STRONG belt loop connector or reinforced handle for easy carrying. Use the secure hook & loop flap to allow easy yet secure access to your camera while the case is unzipped
METAL ZIPPERS AND SOFT RUBBER PULLERS ensure a smooth and easy opening and closing of the case, so you can reach your gear in no time. Ensure no worry about zipper breakage or jamming
MAXIMUM ACCEPTABLE SIZING DIMENSIONS – Interior Dimensions: 6.5 x 5.75 x 4.5 inches. Zippered accessory pocket accommodates small accessories – MEASURE YOUR CAMERA TO ENSURE FIT!
---
Product Description
Protect your Gear

If you travel frequently or just roam around town looking for that awesome shot and you want the best protection for your high end equipment, this is the case you are looking for.

Always Ready To Go

A durable hook and loop flap design allows you to open and close the case with ease, meaning you'll never miss that perfect shot.

Convenience Amplified

Utilize the zippered accessory pocket to hold smaller accessories such as memory cards or flash drives. A riveted belt loop allows you to keep the case strapped to your hip.
Neoprene Design

✓

✓

✓

✓

Accessory Storage Pocket

✓

✓

–

✓

Quick Release Buckle(s)

✓

✓

✓

✓

Adjustable Length

✓

✓

–

✓

Attachable Metal Plate

✓

–

✓

–

Dimensions

25 x 19 x 6 cm

21 x 20 x 5 cm

17 x 16 x 6 cm

24 x 17 x 6 cm