UBRAVOO Folding Baby Play Mat 71″ X 79″,Thick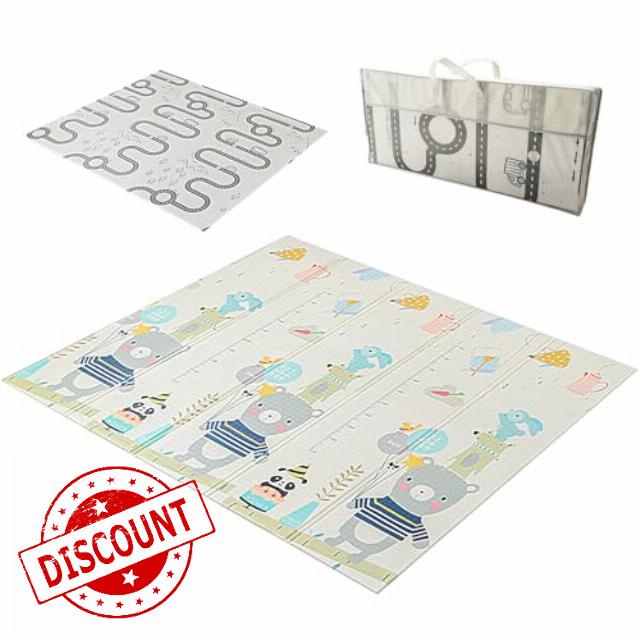 UBRAVOO Folding Baby Play Mat 71″ X 79″,Thick Padded XPE Baby Crawling with Storage Bag,Non-Slip Cushioned Baby Playmat for Babies and Toddlers, Infants, Kids
𝗨𝗡𝗜𝗤𝗨𝗘 𝗪𝗶𝗹𝗱 𝗟𝗶𝗳𝗲 𝗗𝗘𝗦𝗜𝗚𝗡: UBRAVOO foldable play mat for babies and toddlers designs with the unique wild life pattern(Bear and Dinosaur) ,matching modern decor perfectly and offering your kids important visual stimulation.
𝗥𝗘𝗩𝗘𝗥𝗦𝗜𝗕𝗟𝗘 𝗣𝗔𝗧𝗧𝗘𝗥𝗡: Our foam play mat is reversible, featuring different patterns on each side,keep infants engaged and curious.Multi-style complements most home decoration styles.
𝗔𝗟𝗣𝗛𝗔𝗡𝗨𝗨𝗠𝗘𝗥𝗜𝗖 𝗧𝗘𝗫𝗧𝗨𝗥𝗘: Raised alphabets and number can improve toddlers's cognition and achieve enlightenment.A good daily enlightenment tool.
𝗦𝗔𝗙𝗘 & 𝗦𝗢𝗙𝗧 𝗠𝗔𝗧𝗘𝗥𝗜𝗔𝗟: High Quality thicken XPE Foam baby play mat compliant with UK and EU standards.Non-toxic and Odorless, it is no harm of human body.
𝗔𝗡𝗧𝗜-𝗦𝗟𝗜𝗣 𝗟𝗔𝗥𝗚𝗘 𝗣𝗟𝗔𝗬 𝗠𝗔𝗧: It has great Friction from the raised alphabets all over the baby crawling mat to avoid baby fall down, great cushion for babies rolling, tummy time, crawling, sit up, stand and learning to walk.
𝗪𝗔𝗧𝗘𝗥𝗣𝗥𝗢𝗢𝗙 & 𝗘𝗔𝗦𝗬 𝗧𝗢 𝗖𝗟𝗘𝗔𝗡: The 100% water-resistant surface of this playmat makes cleaning up a breeze. Simply wipe it down with a wet towel. The waterproof layer also protects the colorful pattern from fading, ensuring long-term durability.
𝗙𝗢𝗟𝗗𝗔𝗕𝗟𝗘 & 𝗣𝗢𝗥𝗧𝗔𝗕𝗟𝗘: UBRAVOO play mats is easy to carry and store with foldable design,you can fold and put it in the corner when you don't use it. Cost-effectiveness mat choice for outdoor or home use.
›
| | |
| --- | --- |
| SKU: | B0CMLF6N3Q |
| Material: | XPE |
| Colour: | Wild Bear |
| Assembly: | No |
| Colour: | Wild Bear |
| Material: | XPE |