TV Stand Legs for LG Smart TV, Table Top TV Base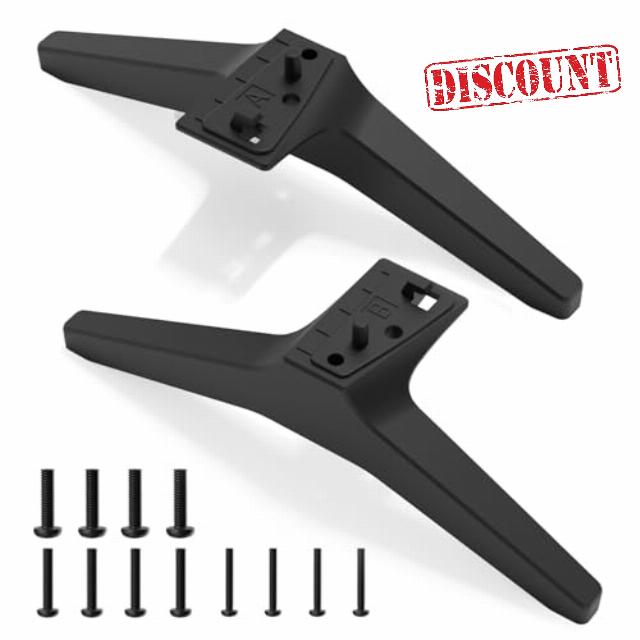 TV Stand Legs for LG Smart TV, Table Top TV Base Replacement for LG 49 50 55 Inch TV with Screws, Easy to Install
Compatibility: TV stand legs for LG 49 50 55 Inch TV, such as: for 49 inch UJ UM UN series; for 50 inch UM UN UK UP UQ series; for 55 inch UJ UM UN UK UP UQ series
Better Viewing Experience: After installing the TV stand legs, it could make TV at the height of people's eyesight to improve your viewing experience!
Protect Your Wall & No Need to Drill Holes: No need to drill holes with the TV base stand legs, no damage to the wall and keep your wall beautiful.
Safety And Stability: The TV stand for LG TV stand replacement base is made of high quality ABS material, it supports flat screen panel TVs up to 30 lbs.
Easy Installation: Our TV stand base replacement for LG TV stand comes with screws and instructions. Save time looking for screws. Easy and fast installation, you can handle it easily by yourself without any hassle.
for 49 inch:
49UJ6350-UC, 49UJ6300, 49UJ6320, 49UJ630T,49UJ635T, 49UJ6500
49UM7300 49UM7300PUA 49UM7300AUE 49UM6900 49UM6900PUA 49UM6950 49UM6950DUB 49UM7100 49UM7100PUA
49UN6900 49UN6900PUB 49UN7300 49UN7300PPC 49UN7300PUC 49UN7300PUF 49UN7300AUD 49UN7300PUB 49UN7350 49UN7350PPD

for 50 inch:
50UK6500 50UK6500AUA 50UK6500PLA 50UK6500LLA 50UK6500MLA
50UM7300 50UM7300PUA 50UM7300AUE 50UM7310PUA 50UM6900PUA 50UK6300BUB 50UK6090PUA
50UN6900 50UN6900PUC 50UN6950ZUF 50UN6951ZUF 50UN6955ZUF 50UN7300 50UN7300PPC 50UN7300PUF 50UN7300PUC 50UN7300AUD 50UN7300PUB 50UN7000PUC
50UP7700 50UP77006LB 50UP8000 50UP80006LA 50UP7670PUC 50UP7000PUA 50UP8000PUA 50UP7700PUB 50UP7560AUD 50UP7100ZUF
50UQ8100 50UQ81006LB 50UQ7570PUJ 50UQ7590PUB 50UQ9000PUD 50UQ7070ZUE

for 55 inch:
55UJ6300 55UJ6320 55UJ630T 55UJ635T 55UJ6540
55UK6500 55UK6500AUA 55UK6500PLA 55UK6500LLA 55UK6500MLA 55UK6090PUA 55UK6300BUB
55UM7300 55UM7300PUA 55UM7300AUE 55UM6900 55UM6900PUA 55UM6910 55UM6910PUC 55UM6950 55UM6950DUB
55UN6900 55UN6900PUB 55UN6950ZUA 55UN6951ZUA 55UN6955ZUF 55UN7200 55UN7200PPF 55UN7300 55UN7300PPC 55UN7300PUF 55UN7300PUC 55UN7300AUD 55UN7300PUB 55UN7310PUC 55UN7000PUC
55UP7500 55UP75006LF 55UP7700 55UP77006LB 55UP8000 55UP80006LA 55UP7670PUC 55UP7000PUA 55UP8000PUA 55UP7100ZUF 55UP7560AUD 55UP7700PUB
55UQ7590 55UQ7590PUB 55UQ7570PUJ 55UQ8000AUB 55UQ9000PUD 55UQ7070ZUE