TV Feet Stand, TV Legs for 32 to 65 Inch TV, TV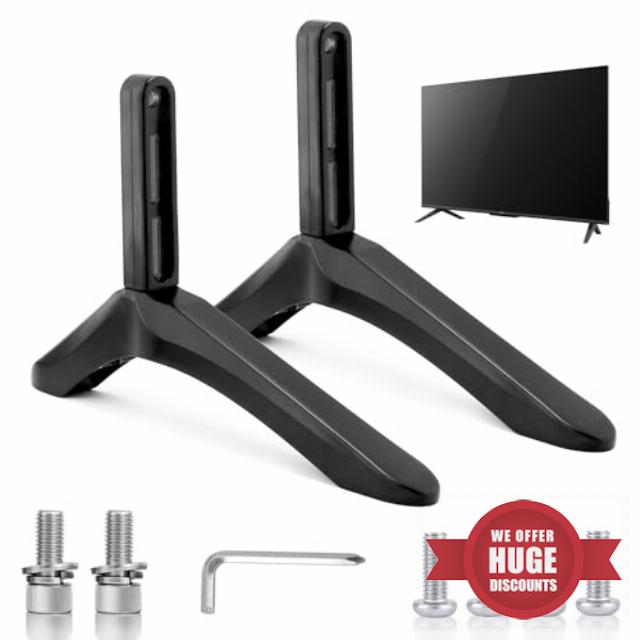 TV Feet Stand, TV Legs for 32 to 65 Inch TV, TV Screen Stand with Screws for Flat and Curved TV LED LCD TV up to 45kg, Mounting Hole Distance from 22 to 55mm
APPLICABLE SPECIFICATION: The TV stand is suitable for TVs with 2 mounting holes on the left and right sides near the bottom edge of the TV (total 4 holes) on the back. The distance between the top and bottom mounting holes should be within 20 to 55 mm, and the distance from the top mounting hole to the bottom edge of the TV should be within 75 mm. Compatible with 32-65" flat-screen, curved, smart, LCD or LED TVs weighing less than 45kg. Please make sure your TV meets the requirements.
PACKAGE INCLUDES: The set includes a pair of metal black TV mount legs, required installation tools, stand accessories and installation instructions. The included pads can be attached to the bottom of the TV stand to prevent the TV from sliding and scratching the surface of the TV cabinet.
2 METHODS OF INSTALLATION: Our metal TV stands can be used for both internal and external mounting of televisions. Please choose the appropriate installation method according to your TV. Easy to install, just align the mounting holes and tighten the screws.
HIGH QUALITY MATERIALS: Our TV feet are all metal design, made of strong and durable aluminum alloy. With this TV mount legs, you no longer need to drill holes in the wall to mount your TV. The stand structure is stable and can support your TV stably.
NOTE: This TV mount stand is not suitable for all TVs. Please read the product details carefully before purchasing. Make sure this tabletop TV stand fits your TV.
Description:
– Color: Black
– Material: aluminium alloy
– Size of the stand: approx. 24 x 3 x 15 cm / 9.44 x 1.18 x 5.90 inch
– Package size: approx. 21 x 16 x 4 cm / 8.27 x 6.30 x 1.57 inch
– Package weight: 462 g
Package contains:
1 x Pair of TV Stands
1 x Bag of TV Stand Accessories
1 x Installation Instructions

Features:
– Applicable TV size: 32-65 inches
– Applicable TV weight: less than 45 KG
– Applicable mounting hole spacing: 20-55 mm
– Distance from the top mounting hole to the bottom edge of the TV: 75 mm

Note:
* The TV stand is not suitable for all TVs. Please make sure that your TV is within the installation scope of the TV feet.
* After receiving the product, please check if the accessories are complete. Please read the instructions carefully before installing.
* If you have any questions, please feel free to contact us. We sincerely hope that this product can bring you a pleasant shopping experience.