TV Aerial – Indoor TV Aerial for Freeview TV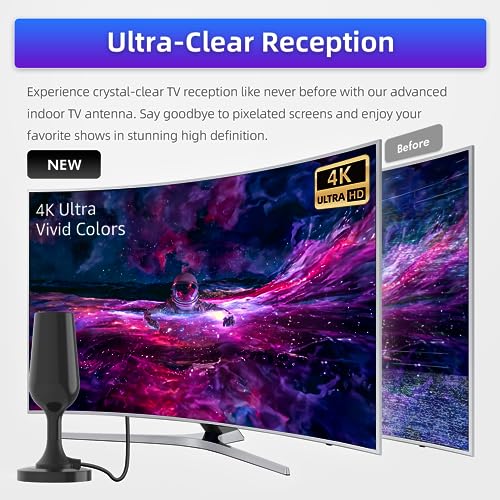 TV Aerial – Indoor TV Aerial for Freeview TV, Strong Magnetic Base, Easy Installation – Compatible with All TVs, Including Portables TV
【Digital TV Aerial Indoor】Explore a world of free, full HD channels with our digital TV aerial. Enjoy popular favorites like BBC One, ITV, Channel 4, Channel 5, BBC Four, Film4, and Dave. With our indoor digital TV aerial, access local news, weather forecasts, sports, educational programs, and cartoons without the need for expensive TV subscriptions. Upgrade your viewing experience today!
【Effortless Setup with Robust Magnetic Base】 This top-notch indoor TV aerial boasts a sturdy magnetic base for easy installation. Just affix it to your TV mount, the back of your TV, metallic surfaces, nearby windows, or cabinets. Enjoy crystal-clear TV signals within minutes.
【Sharp 4K HD Channels】Our TV ariels indoor employs an advanced IC chip, the latest signal amplification technology, and effectively eliminates interference from cellular and FM signals, delivering pristine 720p, 1080i, 1080p, and 4K high-definition images without the need for extra power sources. Please note that actual reception quality may vary based on the broadcasting quality of TV stations.
【Wide Coverage and 360° Reception】 This TV aerial indoor offers comprehensive 360° reception, ensuring you have access to a wide array of free HD channels from every corner of your home. Please note that before purchasing the antenna, it's advisable to check the local channels available in your area, as actual reception quality may vary based on geographical location.
【Digital or Analog TV】Before use, please ensure that your TV is equipped with a Digital Tuner. Check for labels such as ATSC, DTV, HDTV, Digital Ready, HD Ready, Digital Tuner, or Digital Receiver, as they indicate that a Digital Tuner is already built-in by the manufacturer. If your TV does not have a built-in Digital Tuner, you may require an External Tuner box or Converter to use this portable TV aerial effectively.
---
Product Description
At DTB TECH, we believe that family time is important, and we're dedicated to providing the tools you need to create a happy and fulfilling home life. Our TV ariels indoor is just one of the ways we help families like yours stay connected and entertained.