Top Grain Leather Green Canvas Apron Butcher Apron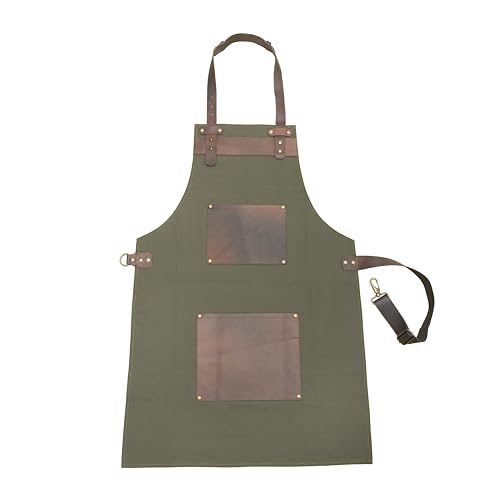 Top Grain Leather Green Canvas Apron Butcher Apron – Cook Apron – BBQ Apron – Chef Apron – DIY Apron – Woodwork Apron Gift for Him Gift for He
Introducing our Canvas Apron with Leather Pocket, a stylish and functional accessory designed to elevate your culinary or crafting experience. Crafted with meticulous attention to detail, this apron combines the durability of canvas with the sophistication of leather, resulting in a versatile and fashionable accessory that you'll love to wear.
The main body of the apron is made from premium quality canvas fabric, known for its strength and resilience. The canvas provides excellent protection against spills, stains, and splatters, ensuring your clothes stay clean and protected during your creative endeavors.
One of the standout features of this apron is its leather pocket, which adds a touch of elegance and functionality. Carefully crafted from genuine leather, the pocket provides a stylish contrast to the canvas while offering a secure and convenient storage space for your essential tools, utensils, or personal belongings. The leather pocket is not only a practical addition but also a statement of sophistication.
Designed with comfort in mind, the apron features an adjustable neck strap and waist ties. This allows for a customizable fit that accommodates different body sizes and ensures a comfortable experience even during long hours of use. Whether you're a chef, artist, barista, or simply someone who enjoys cooking or crafting at home, this apron is designed to enhance your productivity and enjoyment.
In summary, our Canvas Apron with Leather Pocket is a well-crafted accessory that brings together the best of both worlds: practicality and style. With its durable canvas construction, convenient leather pocket, and adjustable fit, this apron is an essential companion for anyone who values functionality and fashion. Elevate your work or cooking experience with this timeless and versatile apron, and embrace the perfect blend of craftsmanship and elegance.