Suprills Metal Gate – Pressure Fit Safety Baby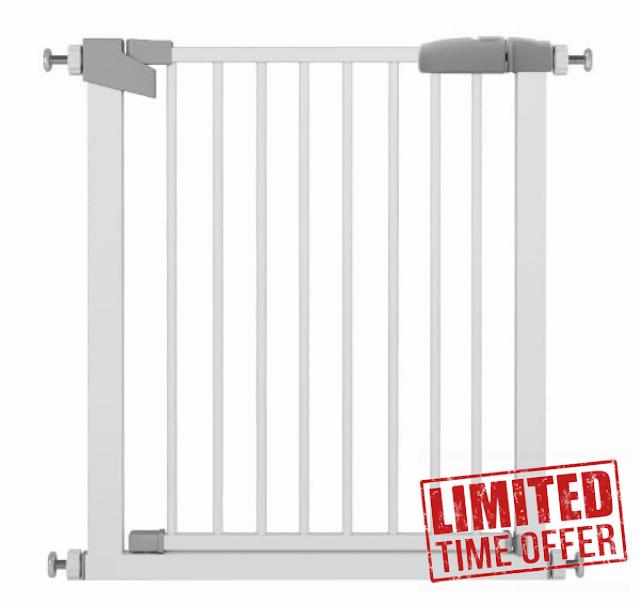 Suprills Metal Gate – Pressure Fit Safety Baby Gate for Stairs and Doors, Suitable for Widths 73 to 80, Extendable for Extra Width (Sold Separately), (Gate)
Sturdy Metal Gate: This baby stair gate is a pressure fit safety gate made from durable metal, designed to withstand the energetic activities of your child or pet. It's a perfect child gate for stairs, doorways or other areas of your home.
Pressure Fit Safety Gate: Our stair gates for baby and pets are pressure fit, meaning no drilling or screws are required for installation. This child safety gate provides a secure barrier for your little ones without damaging your walls or doors.
Versatile Baby Gates: These baby gates for doors and stairs can also double as baby gates for dogs, making it a versatile tool for ensuring the safety of all members of your family. The gate can be adjusted to fit widths from 73 to 80 cm.
Extendable Stair Gate: Our door & stair gates are extendable to accommodate wider spaces. The extendable baby gate extension is sold separately, allowing you to create a safe space for your child or pet in any area of your home.
Ideal for Various Locations: Whether you need stair gates for toddlers, baby gates for doorways, or dog gates indoor, our baby safety gate is a flexible solution. It's a pressure fit stair gate that can be used in multiple locations in your home.
Introducing the Suprills No Drill Baby Gate, a premium pressure fit stair gate designed to guarantee child and pet safety. This metal gate is an ideal safety solution for your home, ensuring a secure environment for your little ones and pets. It's perfect as a baby gate for stairs, doorways, or as a dog stair gate. The Suprills pressure fit safety gate is specifically designed for widths between 73 to 80, making it an ideal choice for a variety of spaces. If you require additional width, our extendable stair gate variant can be purchased separately. The most remarkable feature of our safety gate is the no-drill and pressure fit design. This means there's no need for screws, thus eliminating the need for any potential damage to your walls or staircases. This pressure fit baby gate is not just for babies, it's also an excellent stair gate for toddlers, and even a reliable pet safety gate to keep your dogs or puppies from climbing the stairs. Our baby gate also features a stair gate wall protector to prevent any scratches or marks on your walls or stairs. With the Suprills baby gate, your child's safety is our priority. This safety gate for stairs is designed to provide the utmost security and peace of mind. Moreover, if you're planning a trip, our travel stair gate can provide the same level of protection and security while you're on the go. It's portable, easy to install, and just as sturdy as the original. The Suprills No Drill Baby Gate is not just a baby safety gate, it's a versatile safety solution for your entire household. Whether you're looking for baby gates for doorways, stair gates for baby, or safety gates for dogs, the Suprills pressure fit stair gate is the perfect solution. Enjoy a safe and worry-free environment for your family with Suprills.
| | |
| --- | --- |
| SKU: | B0CNKWYHVP |
| Model: | 078 |