Sluffs 12 Inch Drawing Board Writing Pad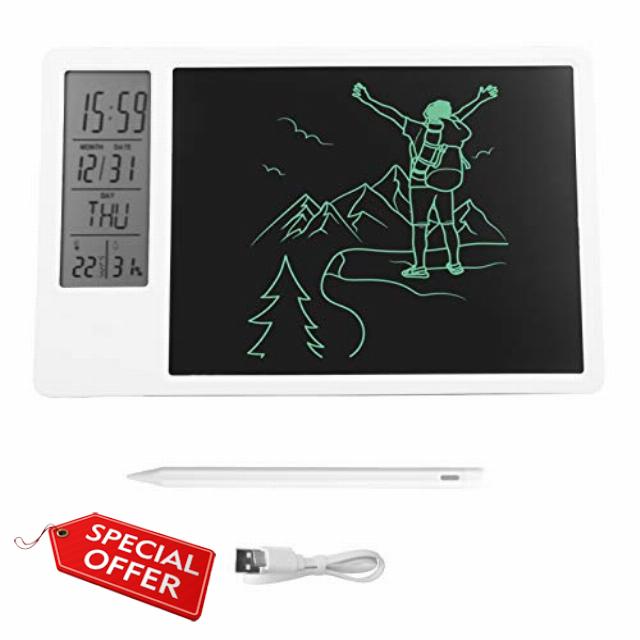 Sluffs 12 Inch Drawing Board Writing Pad Electronic Doodle Digital Memo Notepad E-Writer Portable Notebook – Desktop LCD Writing Tablet with Handwriting Blackboard, and Humidity Mete
Product Benefit: This desktop LCD writing tablet is perfect for taking notes, drawing, or writing to-do lists. It's a convenient and eco-friendly alternative to paper and can be used over and over again.
Product Benefit: The built-in digital alarm clock and calendar make this writing tablet even more versatile. You can easily keep track of time and dates, making it ideal for home, office, or school use.
Product Benefit: With the indoor temperature sensor and humidity meter, you can monitor the climate in your surroundings. This feature is especially useful for those who suffer from allergies or want to maintain a comfortable environment.
Product Benefit: The blackboard design of this writing tablet gives it asleek and modern look. It's not only functional but also adds a touch of style to your workspace or living area.
Product Benefit: The lightweight and portable design of this writing tablet make it easy to carry around. Whether you're traveling, attending meetings, or studying, you can take it with you wherever you go.
Feature:
1. The back support can stand up on desktop, not only beautiful and practical. Handwriting memo support one-click clear and reuse
2. Accurate time display, 12/24 hour system can be switched as needed. Date, week, year can be displayed, alarm clock can be set
3. Real-time accurate display of current temperature and humidity. Temperature can display Celsius or Fahrenheit as customers required
Specification:

Item Type: Electronic Calendar Writing Board
Material: ABS shell
Input Interface: Type-C
Model: ZH-10
Input: DC5V
CD Screen Size: Approx. 103 x 40mm / 4.1 x 1.6in
Handwriting Screen Size: Approx. 192 x 146mm / 7.6 x 5.7in
Time Accuracy: ±1 Second/day
Temperature Accuracy: 0.1℃
Temperature Measurement Range: -50℃-70℃
Humidity Accuracy: 1%
Humidity Measurement Range: 10%RH-99%RH
Working Voltage: 3V
Automatic Temperature and Humidity Measurement Cycle: 10 Seconds
Battery: Lithium battery 402020, 120mAh
Charging Time: 90 Minutes
Handwriting Board Service Life:>50,000 times
Alarm Time: 1 Minute


Package List: 1 x User Manual 1 x Type-C Cable 1 x Handwriting Board 1 x Stylus