Security Camera Backup Battery,Modem Power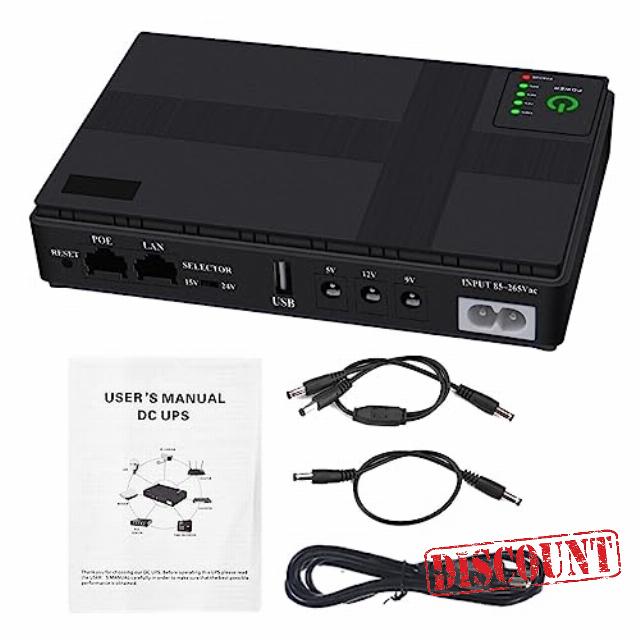 Security Camera Backup Battery,Modem Power Uninterruptible Router Battery Battery Pack | Speaker Video Camera Power Supply Tool for Camera Huaxingda
✪Wide Application Scope: This mini UPS backup battery can power various devices such as video camera, , access control system, security monitoring system, camera, fingerprint attendance machine, fire safety system and more.
✪Safe Operation: This mini UPS backup battery has overcharge protection, overcurrent protection, short circuit protection and over discharge protection. These features ensure a stable and secure power supply for your devices.
✪High-Capacity Battery: This mini UPS backup battery has a huge capacity of 8800mAh to keep your devices running for a long time. Because of its large energy storage, it can power two devices at once with its dual output ports.
✪Space-saving Design: This mini UPS backup battery is small and lightweight, so you can easily carry it with you wherever you go. It won't take up much room in your backpack or briefcase, making it ideal for travel or remote work.
✪Wonderful Gift: This mini UPS backup battery is a great way to express your gratitude and affection to your family and friends. Whether it's a birthday, housewarming, or anniversary, this is the perfect gift for any occasion.
Keep your camera running with this portable and reliable device. It features a fire safety system, overcurrent protection and backup energy storage power. A great birthday gift for anyone who loves security and convenience.

Name: Mini UPS Backup Battery
Weight: 400g
Dimensions: as the picture shown
Product Series:DCDC
Router: UPS
Power Type: Uninterruptible Power Supply

Packing List:
1*UPS Backup Power Supply
1*Power Cord
1*Male To Male Power Cord
1*Power Cord
1*English Manual

Note:
Please accept that there is a color difference in the product due to lighting effects and photographing angles.
The product size has a tolerance due to hand measurement.