SafeTag Plug 4G LTE – 4G OBD 2 / II Self-Install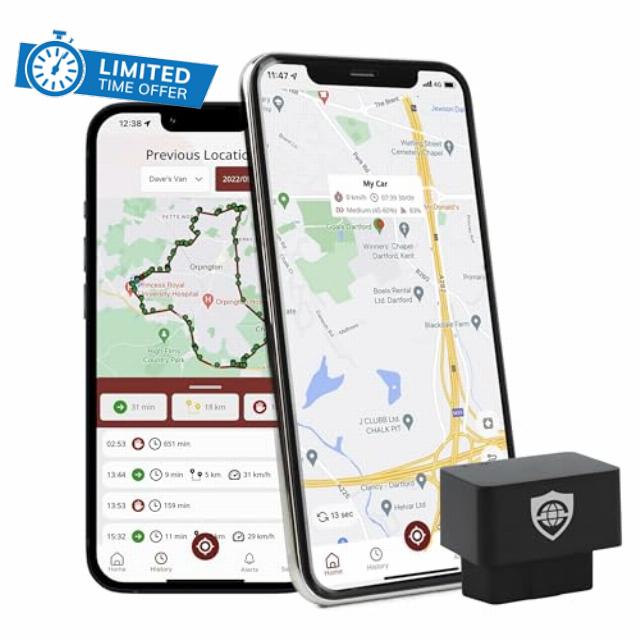 SafeTag Plug 4G LTE – 4G OBD 2 / II Self-Install GPS Tracker, Car, Van, Motorbike etc. 34-195 Countries, Real Time Tracking and Notifications, 7 Day Free Trial – Sim Included, 12 Month Warranty… (4G)
✅ Easy Plug & Play Self-Install – Every car manufactured after 2001 has an OBD-2 port by law. It's location is just a quick google search away and then all you have to do is plug it in, it's really that easy!
✅ Cost Effective Tracking – SUBSCRIPTION REQUIRED PER DEVICE- Tracking from as low £4.19/month with an annual subscription and £4.99 when you subscribe monthly.
✅ Global Tracking – Choose from our selection of coverage policies, from European coverage all the way up-to Global coverage. Only pay for the coverage that's right for you.
✅ Alarms and Notifications – Our GPS Tracker will notify you when your vehicle / tracker leaves a pre-selected area in real time (GeoFence). The Plg also supports movement, battery and overspeed alarms/notifications.
✅ Rapid Location Updates – Unlike our competitors the Plug GPS Tracker updates every 30 seconds giving you more accurate tracking.
✅ High Quality Support – At SafeTag we pride ourselves on going the extra mile, with any questions answered within 12 hours any day of the week.
✅ Simple Setup – Once purchased, activating your GPS Tracker is almost instant via our website, on your phone or computer.
✅ 24H Backup Battery – If the tracker is removed from it's port, not only will you get an instant push notification to your phone alerting you, but it will also continue to function for the next 24 hours on it's backup battery.
---
Product Description
SafeTag

Anywhere, Anytime, On Anything

– Web App & Mobile App

– SIM & Connectivity included with subscription fee.

– Unlimited range.

SafeTag

Notifications Sent To Your Phone

– Movement, Overspeed, GeoFence and Removal alerts.

– Sent to your phone.

– Sent to your computer.

SafeTag

Locate Your OBD-2 Port In Seconds

– Connects to universal OBD-2 port.

– No charging required.

– 4G enabled / 4G GPS Tracker.

SafeTag

Retrace Your Steps

– 12 months route history

– Filter by day & journey.

– Export to Google/Apple.
1
Real Time Tracking
2
GeoFence & Alerts
3
Universal Compatibility
4
12 Months History
16-32 Day Battery Life, 40 Second Refresh Rate, IP65 Water-Resistant, SIM & Data Included With Subscription, Unlimited Range, 4G Connectivity.
How Do I Get Started?
Subscription Required

No Charging Required

7 Day Free Trial Included With All Trackers

Unlimited Flexibility
Global Tracking

– Choose from 34 countries in western Europe (including the UK) or up to 195.

– Cancel anytime.

Unmatched Uptime

– Our GPS trackers use an IoT SIM.

– Our IoT SIMs use any network, the strongest available.

Protecting a Fleet?

– Get in touch today.

– Enterprise-grade tracking.
It Gets Better
1
Global Tracking
2
IoT Connectivity
3
SafeTag For Business