Rodent Repellent Indoor, Ultrasonic Mouse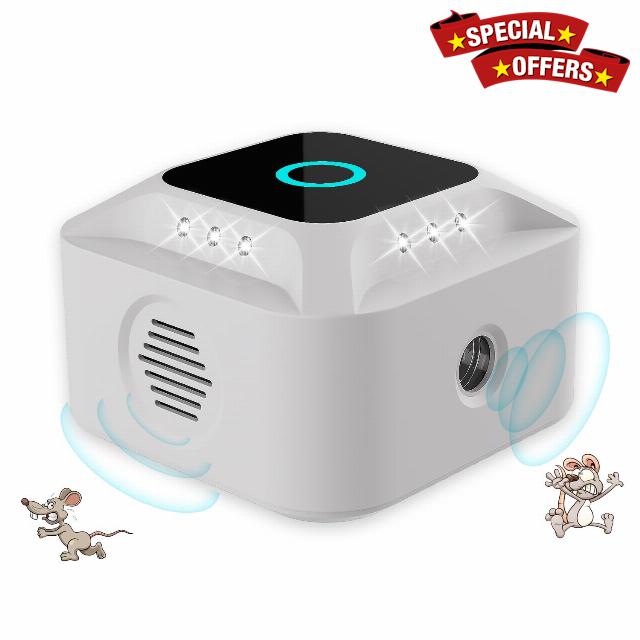 Rodent Repellent Indoor, Ultrasonic Mouse Repeller, Mice Repellent Plug-in, Electronic Rodent Repellent, Mouse Deterrent, Rat Control, Bat Removal for House, Attic, Garage, Baseme
How It Works: Due to equipping with the dual chip, the Ultrasonic Pest Control Device continuously affects the pests' brain system; The built-in 12 LED strobe lights disturb their activity in a dark environment in addition; Rodent Deterrent effectively makes your space uncomfortable rodents and bats by emitting ultrasonic sound, pulse waves, and flashing the lights; Get a pest-free space within a month.
Multiple Mode Switching: Manually switch the deterrent modes to achieve the pest control target you want; The mice repellent plug-in is designed with types of rodent-repelling-mode, preventing rodents and critters from getting used to the same mode; Choose mode ULTRA, mode TRANS, or mode DUO to keep squirrels, mice, rats, bats, and critters at bay in an easy way.
Powerful & Effective: Place the mice repellent in the Attic, Garage, Basement, Room, Storage room, crawl space, RV, or any indoors 100-240v available; Save your money for rodent control, and prevent your property in mice damage, deterring squirrels, mice, rats, bats, and critters out of your home.
Larger Coverage: The Ultrasonic Rodent Repellent effectively repels mice, rats, squirrels, bats, and other pests with a powerful wide-coverage deterrent; The electronic mouse repellant rat control device affects within an indoor area of up to 1067 sq. ft; Since the ultrasound and pulse waves can not penetrate through walls and solid objects; Plugging one ultrasonic mouse repellent in one space enclosed is that we recommended.
Long-term Repellent Process: Sometimes they may be more active during the beginning of use, that's showing that the rodents are irritated; After a prolonged period for up to months, the rodents, bats, and critters will begin to disappear from where they live in; Please make sure the ultrasonic pest repellent be using continuously with patience to get the better result.
Multi-functional Mice Repellent Plug-ins Effective Modes to Deter Rodents and insects
ULTRA
ultrasonic sound, effectively repels, roaches, ants, spiders, etc
TRANS
pressure waves, effectively repel squirrels, mice, rats, and bats
DUO
ULTRA mode and TRANS mode work at the same time
Specification
How it works: Emitting ultrasound and impulse to affect pests' brains
Power: Plug into a power outlet
Type: Cord
Input: DC 9V
| | |
| --- | --- |
| SKU: | B0CHVBRJRY |
| Dimensions: | 11.2 x 10.9 x 7.2 cm; 210 Grams |
| Part: | GB-22 |
| Reference: | GB-22 |