Playseat® Challenge X – Logitech G Editio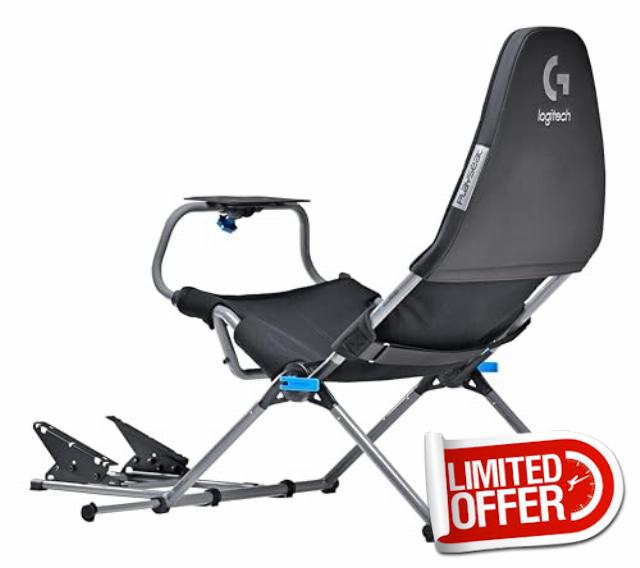 Playseat® Challenge X – Logitech G Editio
FULLY ADJUSTABLE RACING POSITIONS – Enjoy the perfect balance between comfort and stability with the 6 seating positions of X-Adapt. Fine-tune positions of pedals and wheel to replicate the feeling of being in a car.
STAY COOL, COMFORTABLE AND FOCUSED – Race in comfort with breathable ActiFit️ material. Its body-conforming design with adjustable rigidity offers superior support. Stay cool during long races with heat dissipation. Feel every input and enjoy optimal feedback.
LIGHTWEIGHT AND EASY TO STORE – At only 13 kg (28 lbs) the seat can be easily folded and stored away – the ideal companion for drivers who want the full racing experience without the need of a dedicated space.
EASY-ACCESS OPEN COCKPIT ENTRY – Convenient cockpit entry system lets you easily jump into the driver's seat and lock in for an exhilarating experience.
SHIFTER MOUNT INCLUDED – Drift or shift? No problem. The Playseat Challenge X – Logitech G Edition comes equipped with gearshift mount, allowing you to upgrade your race experience with the Logitech G Driving Force Shifter.
The Playseat Challenge X – Logitech G Edition puts you right in the driver's seat to experience the thrill of racing. Extremely lightweight, quick to setup/store and fully adjustable racing positions with breathable Actifit material for total comfort and immersion.