Navy Blue White Mouse Pad Anime Cool Geometric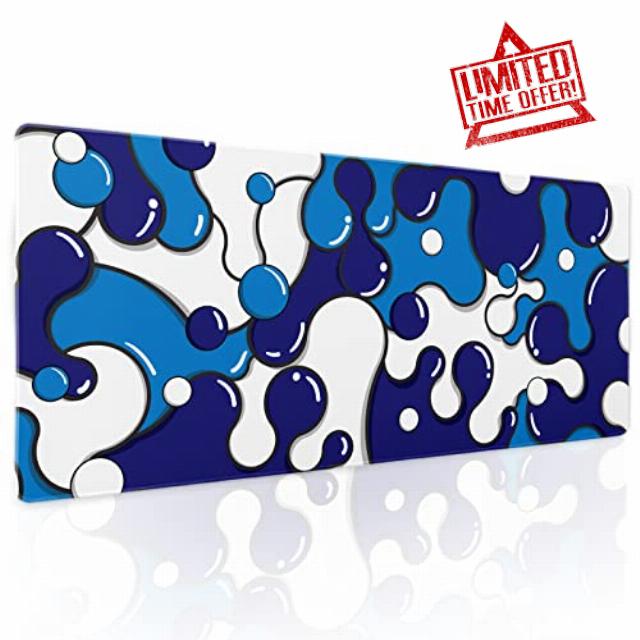 Navy Blue White Mouse Pad Anime Cool Geometric Japanese Extended Desk Mat 80X30 cm Non-Slip Rubber Base Stitched Edge Large XL Mousepad for Desk Gaming Laptop Desktop,31.5×11.8 Inch
★【Large and Perfect Size】:Large Desk mat's measure: 31.5 x 11.8 inches.The  white blue Mouse Pad will fit your desktop perfectly and provide perfect movement space.The extended XL keyboard mouse pad is large enough to hold the mouse, game keyboard, and other desktop items while always protecting your desk.
★【Ultra Smooth Surface】:The gaming mouse pad designed with superfine fiber braided Material, smooth surface will provide smooth mouse control and pinpoint accuracy. Optimized for fast movement while maintaining excellent speed and control during your work or game.
★【Non-slip Rubber Base】: dense slip-resistant shading can firmly grip the desktop to provide stable operation of the mouse and keyboard. It can effectively prevent the mouse and keyboard from sliding and moving.
★【Water Resistant Coating】:The surface of the waterproof material effectively prevents accidental damage from liquid spillage such as water, coffee, juice. When the liquid splashes on the japanese desk mat, easy to clean without delaying your work or game.
★【Durable and Comfortable Material】:adopting High elasticity natural rubber material,the desktop anieme mousepad will provide you with the maximum comfort using experience.The durable stitched edges protect the pad from wear, deformation and degumming.
APORTT Mouse Pad- Great Partners for Your Working and Gaming!
Large size mouse pad is ideal for gaming or office work, comfortable and durable, to provide you with the perfect using experience.

Why you choose us:
1. Superior quality, finely woven fabric surface for the right amount of friction and control.Shortstop distances – super exact handling
2. Non-slip rubber base, comfortable for working and preventing desktop scratching. The comfortable and smooth surface can be used for writing, typing, browsing, desk blotter protector, as well as accommodate your keyboard and mouse.
3. Circle edge stitching prevents the top layer from fraying and ensures the mousepad for long time use.
4. Made of Material is thick and feels soft in the hand, which can help to muffle noise when you type on the pads heavily.
5. Delightful bright color gives you relax work time. Perfect gift souvenir for friends and colleagues.

Advantage Description:
1.Precision locking, the process of using the mouse pad will not slide away, waterproof design, no longer need to worry about playing games against the water cup, a gentle wipe can be used.
2.Made of environmental material to ensure the safety of your health. It is non-toxic, and safe to use.
Package Contents:1 x Extended Gaming Mouse Pad

100% Satisfaction:
An easy replacement or full refund is available for you if you are not happy with our product.
"Add to Cart" now!