Mineup SG800 Retro 4K Game Stick, Wireless, Retro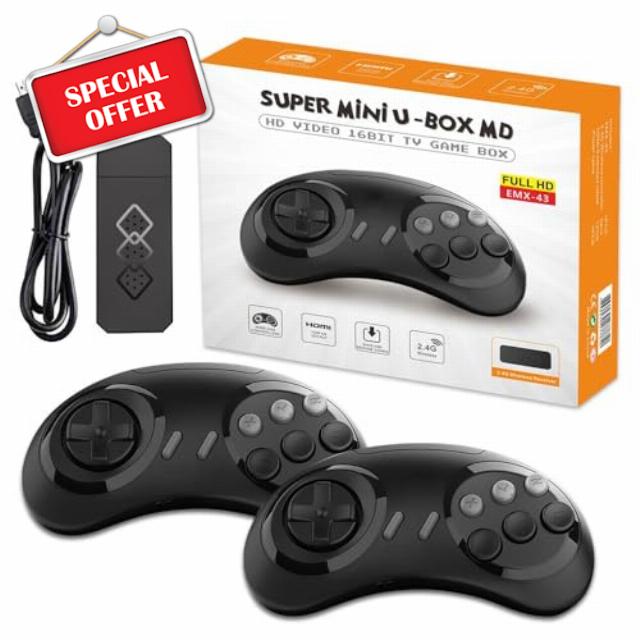 Mineup SG800 Retro 4K Game Stick, Wireless, Retro Console, 688 Pre-Installed Games, Wireless Video Game Console, HDMI Output for TV, Function to Save Game Progress
Tribute to childhood: Do you still remember the time when you played against each other as a child? You both have completed so many classic mini games together. Are you still missing it? Our retro 4K game stick is a retro and nostalgic version with over 600 built-in classic games, so you can return to your childhood and play with your friends again.
2.4G classic wireless controller: our retro console is equipped with 2 wireless controllers, no cumbersome pairing required, one second connection, does not let you wait too long, the signal is stable and there is no delay; the controller is ergonomically designed, non-slip and solidly processed, durable. You will not feel uncomfortable when playing.
Supports HDMI output: the retro 4K game stick can be connected directly to a modern 4K smart HD TV without converter. Better colour representation and highly restored game graphics allow you to play smoothly and enjoy a captivating game console experience.
Multifunctional: this retro console not only supports two-player battles, but can also save the game progress after the end of the game, so you can continue the game the next time you turn it on. The game console not only contains more than 600 mini games, but also supports self-downloading games, so you can play happily.
Ideal gift: as a child, you could not play all games with your friends. Now you can buy our retro 4K game stick without the restrictions of adults and play with your friends or family. This is perfect as a gift for friends on holidays such as Halloween, Christmas, Thanksgiving and birthdays to bring back childhood together.
›
Special feature:
The wireless retro game console has a variety of built-in games, supports HDMI output and can be played with two controllers. Return to childhood with your friends and collect beautiful memories of common fights!
The handle of the HD 4K wireless retro game console is ergonomically designed, so that you do not tire even during prolonged holding; the buttons are made of elastic silicone and have a comfortable feel, making the operation more precise and faster.
The battery life is strong. Simply install one AA battery in the HDM retro video game console to achieve long battery life (not included), with a playtime of 30 hours and a standby time of up to 35 days.
When you buy our retro game console, you will receive 1 game stick, 2 wireless controllers, 1 TF card, 1 USB power cable and 1 user manual (English language not guaranteed).
If there is a problem with the game console, please contact us in time, we will provide you with a solution within 24 hours.
Specification:
Product Name: TV Game Console
Size: 17.9 x 14.2 x 6.8 cm.
Weight: 300 g.
Material: plastic.
Box contents:
1 x game stick.
2 x wireless controllers.
1 x TF card.
1 x USB power cable.
1 x user manual.
Note:
Due to manual measurement, there may be a slight difference in size and weight.
Due to the differences between monitors, there may be slight colour differences.
| | |
| --- | --- |
| SKU: | B0CKN71GQW |
| Dimensions: | 17.9 x 14.2 x 6.8 cm; 300 Grams |
| Model: | T-YXJ-XPA-01493 |
| Material: | Plastic |
| Age: | 9 years and up |
| Assembly: | No |
| Material: | Plastic |