Love To Dream Swaddle, Baby Sleep Sack, Swaddle UP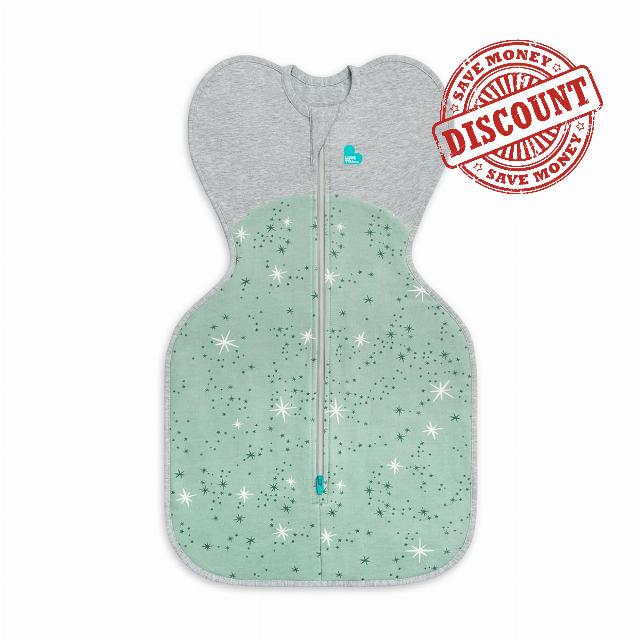 Love To Dream Swaddle, Baby Sleep Sack, Swaddle UP Self-Soothing Swaddles for Newborns, Get Longer Sleep, Snug Fit Helps Calm Startle Reflex, Suitable for All Seasons, 3.5-6kg, Olive
Hip Healthy Sleep Sack: Our sleep sacks are super soft and stretchy. The baby swaddle Up offers ample space for hip and leg movement, promoting natural development of the hip joint. Recognized by the International Hip Dysplasia Institute
Easy & Safe Sleep: Our Love to Dream Swaddle Up is a safer alternative to a baby blanket. The two-way zipper makes diaper changes a breeze, even in the middle of the night. This baby essentials Swaddle Up makes great baby shower gifts
Snug Sleep Sack 0-3 Months: The arms up swaddle, featuring our classic North Star print, has controlled resistance, ensuring ideal arms up snug fit across the torso to support baby's self-soothing, with no loose layers to kick off during sleep
Doubly Snuggly Sleep Sack: Suitable for all year round use, our newborn swaddle is made with 2 layers of soft brushed cotton for added extra softness and warmth, and is ideal for room temperatures between 18°C und 24°C
Baby Must Haves: All our sleepwear is available in luxuriously soft fabrics, with highly detailed seam finishes for absolute gentleness on baby's delicate skin. Super easy care – machine washable, tumble dryer friendly and made to last, wash after wash
Why Choose Love to Dream? All our products are specially designed for different room temperatures & seasons to reduce the risk of overheating. It is important to stop swaddling when your baby starts to show signs of rolling
"
Love to Dream Baby Sleep Sack, Swaddle UP Self-Soothing Swaddle
Sleep never felt this snug with our Swaddle UP Self-Soothing Sleep Sack, featuring our classic North Star print. Our ""arms up"" baby sleep sack, also known as a swaddle or wearable blanket, is designed to allow baby's arms to be positioned upward and close to their face while they sleep. 83% of parents reported an increase in hours slept by their baby when using Swaddle Up
Baby's Natural Self-Soothing Sleep Position
Most babies are more comfortable with their arms near their face, as this mimics the fetal position they were accustomed to in the womb. Allowing their arms to be up can enhance their sense of security and comfort during sleep. The ability for babies to self-soothe by touching their face or sucking on their fingers can be comforting. An arms-up sleep sack facilitates this natural soothing mechanism, promoting better sleep for baby. Babies have a startle reflex, also known as the Moro reflex, which can sometimes wake them up. Swaddling with arms up can help reduce this reflex, preventing unnecessary disturbances to their sleep.
Easy to Use, Hip-Friendly Design
Our sleep sacks are designed to provide ample room for baby's legs and hips to move naturally, allowing for healthy hip development. The clever two-way zipper mechanism means quick and easy diaper changes for any parent, grandparent or carer, even in the middle of the night. The Medium Weight Material is suitable for all year round, and ideal for room temperatures between 64°F & 75°F. Doubly snugly and made with 2 layers of fabric, this swaddle is made with soft brushed cotton for added extra softness and warmth. Fabric content: Outer: 93% Cotton 7% Elastane; Lining: 95% Cotton 5% Elastane.
From the unique, award-winning Swaddle UP, to bedding and Self-Soothing Toys, the Love to Dream range has grown to provide a portfolio of sleep solutions designed for children up to four years old.
"
| | |
| --- | --- |
| SKU: | B0CL8TY4R9 |
| Weight: | 160 g |
| Dimensions: | 27.79 x 15.9 x 3.1 cm; 160 Grams |
| Brand: | Love To Dream |
| Model: | L16 05 188 |
| Colour: | Olive |
| Colour: | Olive |