LADIDA Multi Sensory Play Gym, Activity Gym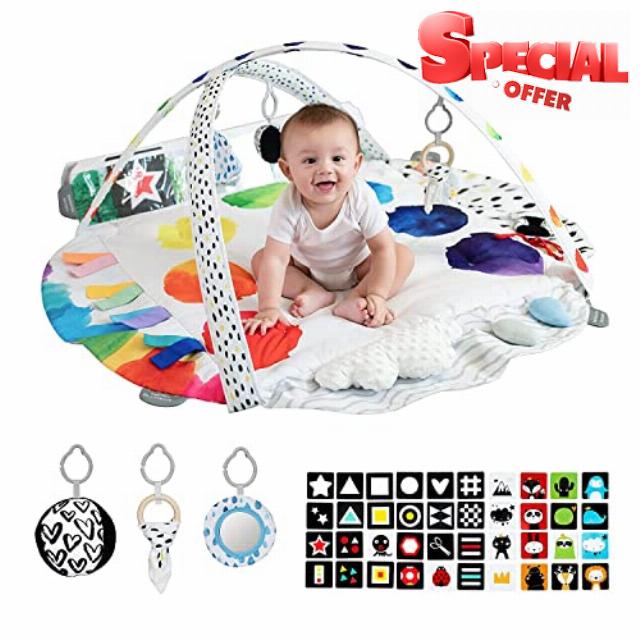 LADIDA Multi Sensory Play Gym, Activity Gym Playmat for Newborns to Toddlers, Sight, Touch & Hearing Development, Includes Tummy Time Pillow, Mirror & Interactive Toys -2204
GROWS WITH YOUR BABY – 3 developmental stages: Lay and Play, Tummy Time, Sit and Play
DEVELOPS SENSES & MOTOR SKILLS – 3 zones, Rainbow & 2-Star Tummy Pillow, textured silicone toys
SIGHT DEVELOPMENT – Contrasting colours for early sight development
TOUCH DEVELOPMENT – 5 textured shape silicone toys for sensory exploration
HEARING DEVELOPMENT – Soft toys with "crinkle," "rattle," and "jingle" sounds
›
Looking for a versatile and enriching activity gym that's designed to accompany your baby from newborn all the way through to toddlerhood? Look no further! Here is the LADIDA Rainbow Fun play gym. Adapted to three developmental stages, with traditional lay and play, tummy time and sit and play functionalities, as well as interactive and engaging toys.
The three distinct zones offer an array of sensory stimulation to improve your baby's senses and motor skills. The detachable rainbow and 2-star tummy pillow, along with the five types of textured shape silicone toys, provide unique and interesting sensations for curious fingers!
This play gym was designed with sight development in mind, as well as auditory and tactile development. The mat's contrasting colours provide the perfect level of stimulation for your baby's first month of life. Meanwhile the carefully selected colourful ribbons encourage more colour exploration and early sensory development.
Touch and hearing are also improved with the inclusion of the five textured toys described above, as well as the interchangeable soft toys that produce 'crinkle', 'rattle', and 'jingle' sounds, helping your baby to understand the cause and effect between touch and sound.
This product is the ideal gift for a new parent in your life, or even a parent who has been through it all before.
| | |
| --- | --- |
| SKU: | B0CMV11WDP |
| Dimensions: | 44 x 34 x 14 cm |