KIMISS PULUZ Motorcycle Bike Handlebar Mount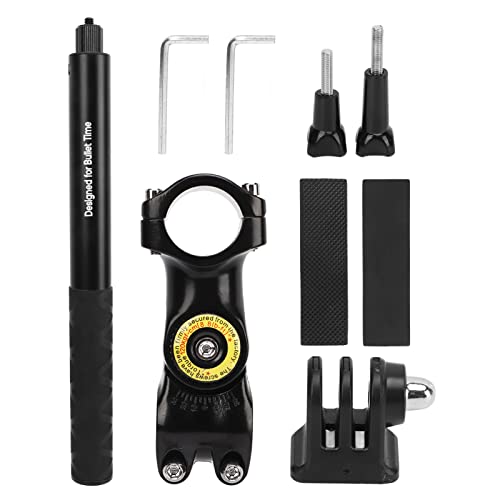 KIMISS PULUZ Motorcycle Bike Handlebar Mount Selfie Stick Long Pole for Gopro, Insta360, Action Camera Bracket Adapter Clamp Holder with Monopod Stand 11-44.7 Inch Adjustable Length
Secure and Stable Mounting: The bike handlebar camera clamp provides a secure and stable mounting solution for your camera, ensuring it stays in place even during rough terrains or high-speed rides.
Wide Compatibility: This camera holder mount is compatible with a wide range of cameras, including card digital cameras, micro single cameras, SLR cameras, motion cameras, and more, making it suitable for various photography needs.
Versatile Usage: The clamp pipe can be easily attached to bike and motorcycle handlebars, as well as guard bars, offering flexibility in capturing footage and taking pictures during different outdoor activities.
Enhanced Durability: Constructed with premium aluminum alloy, this bike camera bracket is not only sturdy and wear-resistant but also has a long service life, ensuring reliable performance even in rugged conditions.
Expandable Function: The inclusion of a selfie stick allows you to extend your camera's reach, enabling you to capture unique and dynamic angles while biking or motorcycling, adding creativity to your photography or videography.

Item Type: Bike Handlebar Camera Clamp Pipe
Material: Aluminum Alloy
Gross Weight: 493g / 17.4oz
Applicable Size: can fix 29mm-32mm bike and motorcycle handlebars
Selfie Stick Links Number: 5
Expansion Length: Approx.27.9-113.5cm / 11.0-44.7in
Screw Hole: 1/4in

packing list:
1 x Cycling Clip
1 x Selfie Stick
2 x Wrench
2 x Screw Rod
1 x Adapter
2 x Gasket