Kidow Toys Baby Bath Toys Mega Pack 56-piece Bath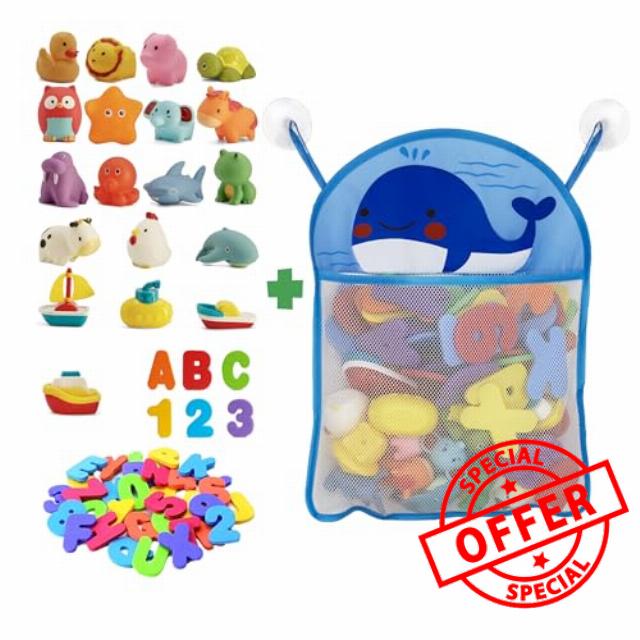 Kidow Toys Baby Bath Toys Mega Pack 56-piece Bath Toy Set, Comprehensive Baby Bath Toy No Mould Bath Toys & Kids Foam Letters Bath Collection, Educational & Fun, Ideal For Gift (Whale Toys)
[ Comprehensive 56-Piece Bath Toy Set ] – Dive into Kidow Toys' Mega Pack, bursting with a collection of 56 diverse bath toys. From animals to boats and more, every bath promises a new adventure and learning experience. All non-moulded bath toys are suitable for baby bath toys 6 months plus but foam bath toys are suitable for bath toys for 3+ year olds.
[ Exclusive 36 Foam Pieces ] – Highlighting our bath letters and numbers set are the 36 soft foam letters and numbers that stick to bath walls when wet. Introduce early literacy and arithmetic in a playful setting, making learning both fun and engaging perfect as bath toys for 2 + year olds.
[ Age Safety & Durability Assured ] – This full pack is suitable for bath toys for 3 year olds however, most of the no mould bath toys items are suitable for toddlers under 1 year as well, Made from non-toxic EVA foam and ABS material, our toys are BPA-free, durable, and scratch-resistant. With Kidow Toys, rest assured that every playtime is both safe and enjoyable.
[ Adventures Beyond the Bathtub ] – While primarily designed for bath play, these toys are versatile for pool, beach, or floor play. With the bonus decorative net bag, organizing and storing after fun is a breeze. Farm set and Sea set are suitable for bath toys for babies 6-12 months while letters and numbers are suitable for bath toys for 3+ year olds
[ The Perfect Gift ] – Elevate gifting with Kidow Toys mould free bath toys kids bath toys 56-piece bath toy set. Designed for children aged 3-8, it's the perfect surprise for birthdays, Christmas, and special occasions, ensuring joyous smiles and endless fun.
›
Welcome to the delightful universe of Kidow Toys toddler bath toys and our 56-Piece Bath Toy Mega Pack water toys. Each bath becomes a storybook, with our varied set designed to spark creativity, entertain, and educate young minds. Dive Deep into Learning: Central to our mega pack are 36 vibrantly colored soft foam letters and numbers. These pieces foster a love for learning, paving the path for early literacy and number skills. The joy of recognizing alphabets and numbers while splashing around is truly unparalleled. Engage in Stories & Play: With 6 mold-free sea bath toys and 9 farm toys, narratives of underwater escapades and countryside tales come alive. And don't forget the 4 intriguing boats, perfect for tales of voyages and treasure hunts! Quality You Can Trust: At Kidow Toys, we believe in offering unparalleled value. Our comprehensive pack guarantees a fresh adventure every bath time. And with the included decorative net bag, tidying up is effortless. A Gift to Remember: Think memorable, think Kidow! Our 56-piece bath toy set is the perfect present, promising smiles, laughter, and hours of engagement. Kidow Toys cherishes your child's safety, growth, and happiness. Dive into our world, and let the splashing fun begin!
| | |
| --- | --- |
| SKU: | B0CLDX4GBV |
| Dimensions: | 32 x 8 x 40 cm; 40 Grams |
| Model: | 601C-T |
| Material: | Plastic, Foam, PVC |
| Pack Quantity: | 56 |
| Batteries Required: | No |
| Age: | 36 months – 8 years |
| Assembly: | No |
| Material: | Plastic, Foam, PVC |
| Quantity: | 56 |