Kase 67mm Magnetic Lens Filter Adapter Ring Kit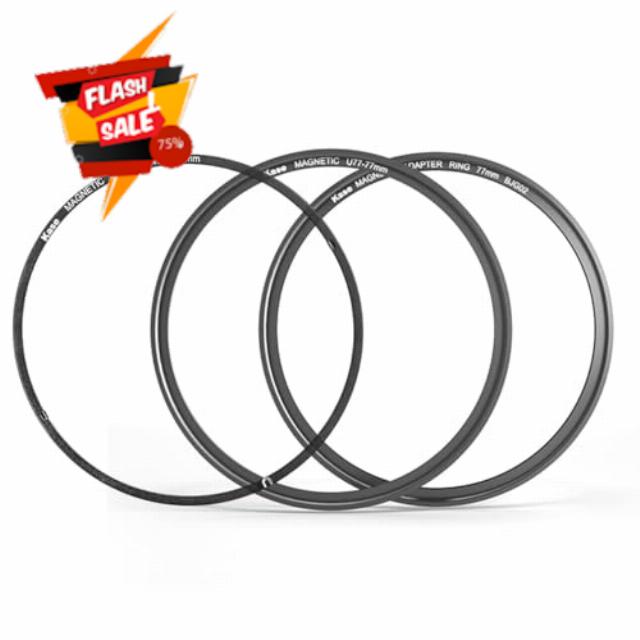 Kase 67mm Magnetic Lens Filter Adapter Ring Kit Pro – Convert 67mm Screw in Thread Filter to Magnetic Filte
Convert your 67mm screw-in thread filter to a magnetic filter, enable you to quickly install and replace thread filters to capture fleeting moments.
When the inlaid ring and ring for filter are installed on the thread filter, the thread filter can be transformed into a double-sided magnetic filter.
When the inlaid ring is installed on lens, compared to conventional adapter ring, the inlaid ring reduces the distance between the filter and the lens, when multiple magnetic filters are stacked, it can effectively avoid vignetting.
Made of Aluminum alloy and magnet,weight only about 13g. Durable and lightweight.
The Kit includes 3 magnetic adapter rings, a magnetic ring for 67mm thread filter, a magnetic ring for 67mm camera lens and a 67mm magnetic inlaid ring.
Kase 67mm Magnetic Filter Adapter Ring Kit Pro includes 3 magnetic adapter rings, a magnetic ring for 67mm thread filter, a magnetic ring for 67mm camera lens and a 67mm magnetic inlaid ring, which convert your 67mm traditional thread filter to a magnetic filter, enable you to quickly install and replace thread filters to capture fleeting moments.

You can choose to screw the ring for lens or inlaid ring for lens on the camera lens, then the thread filter equipped with ring for filter will attach to lens magnetically.

Magnetic Ring for Lens
After using the ring for lens, the original lens hood can't be installed on lens.

Magnetic Inlaid Ring for Lens or Thread Filter
1. After screwing the inlaid ring into lens, not only magnetic filter, but also original lens cap and lens hood can be installed on lens directly.

2. Compared to conventional adapter ring, the inlaid ring reduces the distance between the filter and the lens, when multiple magnetic filters are stacked, it can effectively avoid vignetting.

3. The inlaid ring can be screwed into thread filter, and other magnetic filter can be stacked on it.

Specification:
Brand: Kase
Material: Aluminum alloy + magnet
Weight: about 13g

Package:
Magnetic ring for 67mm thread filter x1
Magnetic ring for 67mm lens x1
Magnetic inlaid ring x1

| | |
| --- | --- |
| SKU: | B0CL6N12ZR |
| Size: | 67 mm |
| Dimensions: | 11 x 11 x 2 centimetres |
| Brand: | Kase |
| Model: | 67mm Magnetic Filter Adapter Ring Kit |
| Part: | 67mm Magnetic Filter Adapter Ring Kit |
| Size: | 67 mm |