IPS Ready Upgraded eXtremeRate Gradient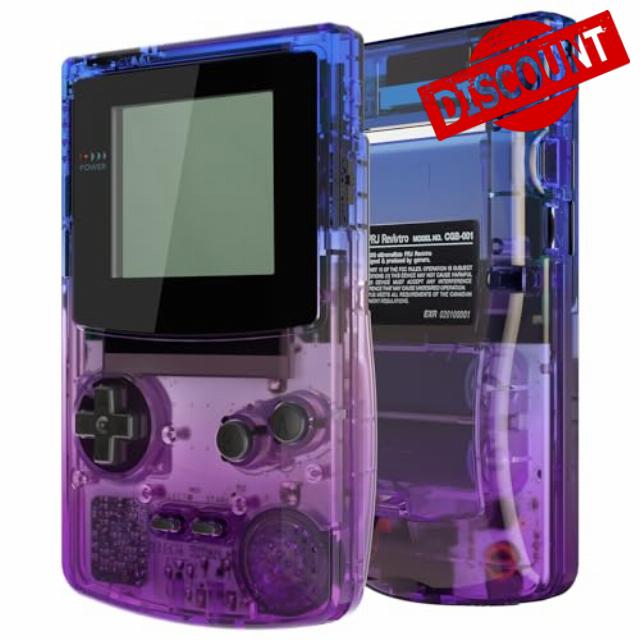 IPS Ready Upgraded eXtremeRate Gradient Translucent Bluebell Replacement Shell Full Housing Cover Buttons for Gameboy Color – Fit for OSD IPS & Regular IPS & Standard LCD –Console & IPS Screen Withou
Upgraded replacement full shell for GBC with full buttons and screen lens, more accurate mold makes the installation smoother
IPS screen installation friendly (you still need to cut off some small pieces of plastic for IPS, IPS screen NOT included)
Compatible with regular IPS & OSD IPS (V1) screen; entirely backwards compatible with standard LCD
Fully compatible with our premium replacement buttons (sold separately), make your console looks more personalized
Installation Skills Required: Required customers to take apart the game console to install this housing shell; Required customers handy with console installation; Get the installation video guide on Youtube by searching searching "eXtremeRate Upgraded Shell for Gameboy Color" or "sn94_nLVv5o" for GBC OSD IPS (V1), "kPrEXbxXtj0" for GBC standard screen and regular IPS
eXtremeRate raised the project REVIVTRO in 2020, aimed to revive your retro gaming console with modern tech.
IPS screen is now popular in restoration projects for Gameboy Color.
But most of the IPS ready replacement shells in the market have difficulty with the standard screen installation.
So eXtremeRate re-designed the mold to make it easy for both IPS and Standard screen installation.
And with more accurate mold and made of premium ABS material, the quality of the eXtremeRate upgraded housing for GBC is one of the best in the world.
So let's take the handheld console from your drawer and give a new look to your old friend!
Read Before Purchase:
1. This product is only compatible with Gameboy Color handheld game console.
2. The replacement shell is also compatible with Game Boy Color High Light Backlight IPS LCD display. The IPS LCD display is NOT included.
3. This is a full housing shell with buttons for Game Boy Color GBC. The console and other parts are not included.
4. Required customers to take apart the game console to replace your original shell; Required customers handy with console installation; Get the installation video guide by searching "eXtremeRate Upgraded Shell for Gameboy Color" on Youtube.
Product Feature:
Made of durable non-toxic ABS plastic. Odour free.
Upgraded redesigned mold, completely fits flush on all sides; Sit properly on all the clips.
Compatible with OSD IPS (V1) & Regular IPS & standard screen.
Personalize your handheld game console for gameboy color.
Package Includes:
1* Front back shell
1* Screen lens
1* Battery cover case
1* A/B/Power/ Dpad buttons
1* Select/Start buttons
1* Rubber conductive pad
1* Open shell tool
2* Screwdriver
18* Screws
Note: The console, IPS backlight kit and other parts are not included!

---
From the brand
eXtremeRate is a gaming accessory development company, focused on quality and innovation. As one of the global leaders in video game accessories, eXtremeRate leads the way in the video gaming entertainment industry with customized, innovative items, and unique one-stop gaming modding solutions since 2010.