Greenjob 378XL Ink Cartridges Replacement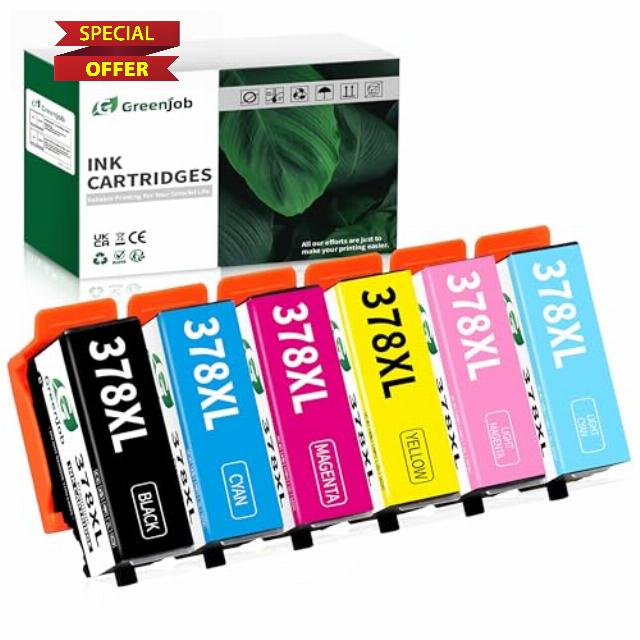 Greenjob 378XL Ink Cartridges Replacement for Epson 378 Ink Cartridges Multipack Compatible with Expression Photo XP-8500 XP-8505 XP-8600 XP-8605 XP-8700 XP-8000 XP-8005 XP-15000 Printer (6-Pack)
Product name: Greenjob 378 XL ink cartridges for epson 378xl ink cartridges multipack. (NOT original )
Compatible with: Epson Expression Home Expression Photo XP-8000 XP-8005 XP-8500 XP-8505 XP-8600 XP-8605 XP-8700XP-15000 XP8500 XP8505 XP8600 XP8605 XP8700 XP8000 XP8005 XP15000 printer.
Pack content: Greenjob 378XL ink cartridges multipack, including 1x 378XL Black, 1x 378XL Cyan, 1x 378XL Magenta, 1x 378XL Yellow, 1x 378XL Light Cyan, 1x 378XL Light Magenta, total 6-pack.
Page yield: Replacement for epson squirrel ink cartridges, 500 pages per 378XL black cartridge and 830 pages per 378 XL color printer cartridge. (Letter / A4 at 5% coverage)
100% print test and environmentally friendly packaging.
The product you receive may differ from the packaging shown on the details page depending on the batch.
---
Product Description