GDEMU Optical Drive Simulation Board for DreamCast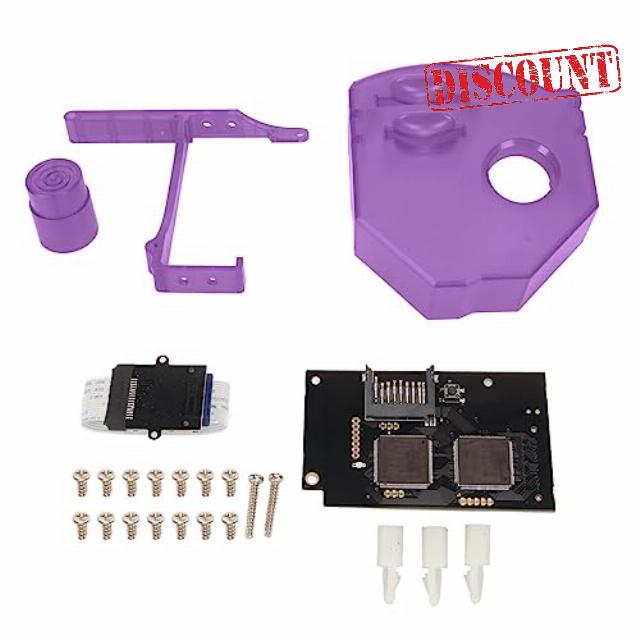 GDEMU Optical Drive Simulation Board for DreamCast VA1 Console, Fast Read and Quiet, Compatible with Up to 512GB Storage Card (Transparent Purple)
REPLACEMENT: Replace faulty optical drive simulation board parts. Accept up to 512GB storage card. Storage card mount kit is sturdy and durable, effectively improve ventilation and heat dissipation.
EASY TO INSTALL: New version 5.20 (5.20.3) for GDEMU, easy to install, no soldering and modifications to the board are required, using the original interface will not damage your console.
NEW FEATURES: This console optical drive simulation board features system updates, automatic timing files for SoA and for RE: CV, and a new INI option to manually limit for GDEMU speed.
QUIET AND FAST READ: For GDEMU optical drive simulation board, remove the jagged sound of the optical drive and read for DC console board faster to ensure you enjoy your games.
COMPATIBLE MODEL: The optical drive simulation board and storage card mount kit are only available for SEGA DreamCast VA1 console motherboard, otherwise the for GDEMU will be damaged. the white interface height is about 8mm/0.31in.
Spec:
Item Type: for GDEMU Optical Drive Simulation Board
Product Material: PCB
Scope of Application: for DreamCast VA1 Console
Simulation Board Version: V5.20 (5.20.3)
Size: Approx. 7.9x7cm / 3.1×2.8in
New Features:
1. System update
2. Automatic timing files for SoA and for RE:CV
3. New INI option to manually limit for GDEMU speed
Details:
1. Fixed for Arcadia opening lag issue.
2. Fixed for Veronica Tiger Head Jewel bug causing inability to get slotted items.
3. Some images that could not be recognized by older firmware versions can now be recognized.
4. Some GDI images that have been previously reorganized by tool streamlining are recognized on older firmware versions, but may not be recognized and unrecognized on newer firmware versions.

How to Use:
Remove the product and use it

packing list:
1 x Optical Drive Board
3 x Retainer
1 x Drive Tray Insert
1 x Button
1 x for GDEMU Board Mounting Bracket
1 x Storage Card Extension Cable
1 x Screw Kit
1 x Instruction Manual

Note:
1. It is possible to update 5.20 for GDEMU, but the update process for this product is complicated and can become a brick if you make a mistake.2. All data are measured manually, and there are certain errors in the measurement results.