GameSir T4 Cyclone Pro Wireless Pro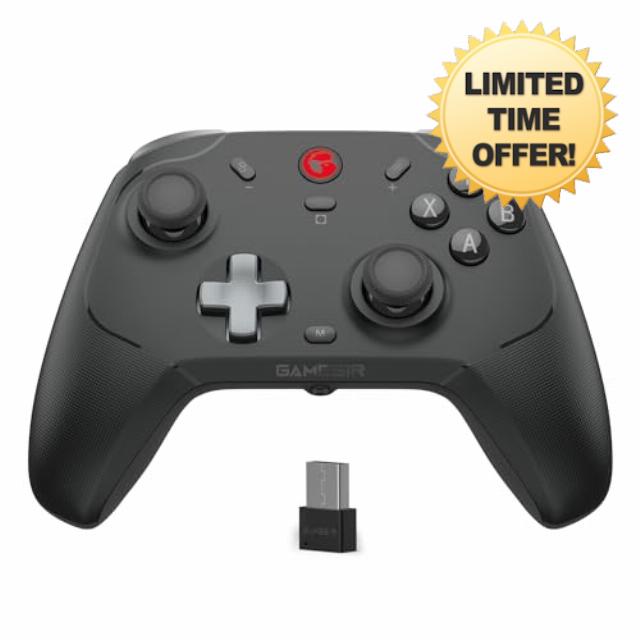 GameSir T4 Cyclone Pro Wireless Pro Controller,Hall Effect Controller (No Drifting) for Windows PC, Switch, Steam Deck, Android & iOS(Black)
GameSir T4 Cyclone pro wireless pc controller is compatible with Windows 10/11, Switch, Android, iOS and Steam Deck.
The GameSir Hall Effect joysticks specifically for No Dead Zone and No Drifting joystick performance.
Hall effect analog triggers allow you to switch from regular triggers to fast trigger mode when playing FPS or RPG games.
Enhance your gameplay with the 2 macro back buttons. Assign to a single button or a set of buttons, even allowing you to execute complex combo motions with ease.
2 distinct rumble motors in the grips for strong and subtle vibrations. 2 motors inside the triggers bring the feedback to your fingertips. Trigger vibration only supported in Bluetooth XInput mode.
Seamlessly control various functions with the multi-function M button, from trigger mode to stick mode, and vibration intensity to ABXY layout.
Tilt, shake, or rotate the controller, immersing yourself in your favorite Switch games with interactive motion controls.
Enjoy unparalleled flexibility with three connectivity options—Bluetooth, 2.4G receiver, and USB-C.
Get realistic feedback from the game environment with the dual vibrations that respond to your in-game actions, adding an extra layer of immersion to your gameplay.
Unlock limitless customization for different games with the GameSir App. Customize buttons, stick deadzone, trigger travel distance, vibration and more to suit your playstyle.
---
Product Description
GameSir Game Controller
| | | | | | |
| --- | --- | --- | --- | --- | --- |
| | GameSir T4 Cyclone Pro | GameSir T4 Cyclone | GameSir T4 Pro | GameSir T4 Kaleid | GameSir G7 |
| Wirelss or Wired | Wirelss | Wirelss | Wirelss | Wired | Wired |
| Hall Effect Sticks | ✔ | ✔ | ✘ | ✔ | ✘ |
| Hall Effect Triggers | ✔ | ✔ | ✘ | ✔ | ✔ |
| Custom Button | 2 Customizable Button | 2 Customizable Button | 4 Customizable Button | 2 Customizable Button | 2 Customizable Button |
| Working Platforms | Switch/PC/Android/iOS | Switch/PC/Android/iOS | Switch/PC/Android/iOS | Switch/PC/Android | Xbox/PC |