Freestanding/Wall Mountable Panel Safety Gate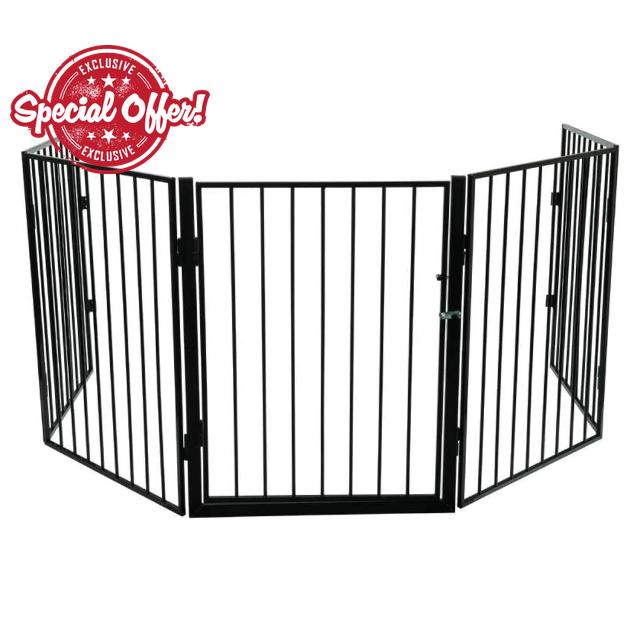 Freestanding/Wall Mountable Panel Safety Gate Nursery Guard Fire Guard Fire Place Screen 76cm (H) x 300cm (W)
Are you concerned about your child's safety near fireplaces, open doors, or staircases? Worried about your energetic pets exploring where they shouldn't? We have the perfect solution for you! Introducing our Sturdy Metal Safety Gate in a sleek black powder coating finish. This gate is not just any gate; it's a fortress of protection for your little ones and furry friends.
Our Metal Safety Gate is designed to provide maximum safety without compromising on aesthetics. It not only offers a strong and secure barrier but also complements your home decor with its stylish black powder coating finish.
Want to ensure extra stability? No problem! Our gate can also be easily fixed to the wall, giving you that extra peace of mind. You have the flexibility to choose the setup that suits your needs. Also folds down into a compact format for space saving storage.
With its innovative panel design, our Safety Gate provides a seamless solution for both adults and children. Featuring a convenient access door panel with a latch lock closure feature, you can move around your home effortlessly while ensuring your child's or pet's safety.
Choose the size that fits your space perfectly: 4 Panel Gate: 76cm (H) x 240cm (W) and 5 Panel Gate: 76cm (H) x 300cm (W)
Are you concerned about your child's safety near fireplaces, open doors, or staircases? Worried about your energetic pets exploring where they shouldn't? We have the perfect solution for you! Introducing our Sturdy Metal Safety Gate in a sleek black powder coating finish. This gate is not just any gate; it's a fortress of protection for your little ones and furry friends.
Our Metal Safety Gate is designed to provide maximum safety without compromising on aesthetics. It not only offers a strong and secure barrier but also complements your home decor with its stylish black powder coating finish.
Want to ensure extra stability? No problem! Our gate can also be easily fixed to the wall, giving you that extra peace of mind. You have the flexibility to choose the setup that suits your needs. Also folds down into a compact format for space saving storage.
With its innovative panel design, our Safety Gate provides a seamless solution for both adults and children. Featuring a convenient access door panel with a latch lock closure feature, you can move around your home effortlessly while ensuring your child's or pet's safety.
Choose the size that fits your space perfectly: 4 Panel Gate: 76cm (H) x 240cm (W) and 5 Panel Gate: 76cm (H) x 300cm (W)
| | |
| --- | --- |
| SKU: | B0CLF1XQTX |
| Brand: | simpa |
| Model: | New |