FK Sports Mini Bike | Mini Exercise Bike | Leg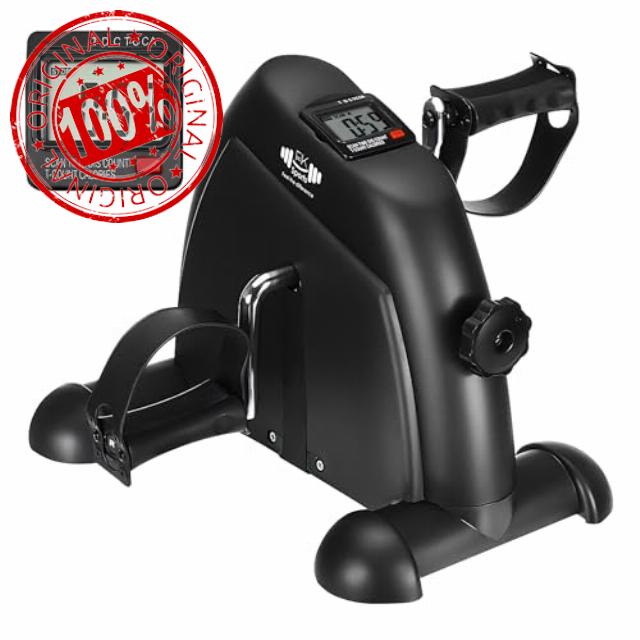 FK Sports Mini Bike | Mini Exercise Bike | Leg Machine Digital Under Desk Bike | Foot Cycle Arm & Leg Pedal Machine | LCD Screen Display | 2.2 Kg Flywheel
✅Indoor Exercise Bike: Get the benefits of a full-body workout with this convenient and versatile FK Sports mini exercise bike. It's perfect for physical therapy, improving circulation, muscle strength, joint mobility, and coordination. Use it on a table to target your arms or on the floor to engage your legs. Remember to always sit down when working out your legs.
✅Exercise Anytime & Anywhere: Take your fitness routine with you wherever you go! This compact and lightweight fk sports exercise bike is travel-friendly, allowing you to stay active on the move. Place it on a table for arm exercises, easily move it from room to room, or enjoy a workout in the great outdoors. Plus, it conveniently fits under your desk, so you can exercise while working.
✅Suitable for All Ages: Whether you're a busy professional, an older adult, or someone with limited mobility, this fk sports bike pedal exerciser is designed for everyone. Adjustable pedal straps accommodate all foot sizes, and the tension control knob lets you personalize the resistance level. It's an ideal fitness solution for men and women of all ages and fitness levels.
✅LCD Display: Stay motivated and track your progress! The LCD computer display shows essential workout metrics, including exercise time, calories burned, cycles and revolutions per minute (rpm), and total distance. The scan feature allows you to easily cycle through all the measurements.
✅Quiet & Compact: Enjoy a quiet and smooth workout experience in the comfort of your home or office. This exercise bike operates silently, ensuring it won't disrupt your surroundings. Plus, it's compact and easy to store. To protect your floors, consider placing a rug underneath the bike.
FK Sports Mini Pedal Exercise Bike Arm Leg Foot Resistance Cycle Pedal Exerciser

Introducing the FK Sports Indoor Exercise Bike – your convenient and versatile full-body workout solution. Ideal for physical therapy, muscle strength, joint mobility, and coordination improvement, it can be used on a table for arms or on the floor for legs. Compact and lightweight, take it anywhere for a workout on the go, or conveniently place it under your desk while working. Suitable for all ages and fitness levels, with adjustable pedal straps and resistance control.
Stay motivated with the LCD display tracking exercise time, calories burned, cycles, and distance. The quiet operation ensures a peaceful workout experience at home or the office. The FK Sports Indoor Exercise Bike caters to everyone's fitness needs and is a valuable addition to any routine. Embrace its versatility, compactness, and effectiveness to take your fitness journey to new heights in the comfort of your own space.
Specifications:
Quick and Easy Assembly: Set up the FK Sports Mini Bike home trainer in just minutes, without any hassle.
Portability: This FK Sports pedal exerciser is lightweight and portable, making it effortless to carry with you wherever you need it.
Versatile Usage: Place it on a table to tone and strengthen your upper arms, or on the floor for a lower body workout.
Clear LCD Monitor: Keep track of your time, distance, number of cycles, total count, and calories burned on the easy-to-read LCD display.
Adjustable Resistance: Customize your workout by using the resistance button to choose the appropriate level for your fitness needs.
Stability and Safety: The anti-slip feet ensure stability during your workout, and the pedal strap
| | |
| --- | --- |
| SKU: | B0CCLNPX2Y |
| Dimensions: | 40 x 31 x 31 cm; 3.8 Kilograms |
| Brand: | FK Sports |
| Colour: | Black |
| Manufacture: | FK Sports |
| Colour: | Black |
---
Product Description
Portable Pedal Exerciser: Your On-the-Go Fitness Solution