Fk Sports 25mm Extra Thick Gym Flooring Mat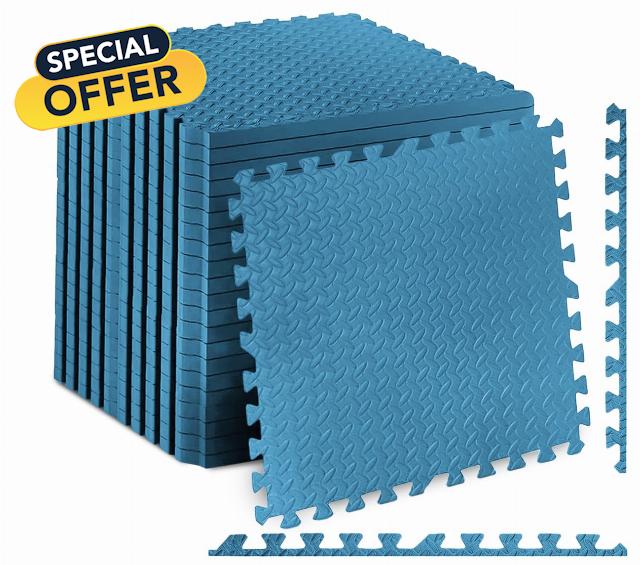 Fk Sports 25mm Extra Thick Gym Flooring Mat, Non-skid mats, Soft Cushion EVA Rubber foam, Interlocking Puzzle Floor Tiles, for home Yoga Workout, Leaf 60x60cm (8 pcs(32 sq.ft), Blue)
Customizable- Build your desired space! With our interlocking EVA Yoga mats, you can reduce or increase the number of mats according to space available for the activity.
Multi-purpose Marvel- Our EVA foam floor mats are versatile in nature and can be used for Garage, Basement, Utilities room, Home gym, and even for Kids, as we use cushioned foam, so it will be comfortable and with non-slip pattern, so it will be a safe choice
Easy to assemble, store and clean- Eva stable mats are made with interlocking puzzle design, you don't need any glue or adhesive to join them. They are really lightweight and easy to handle and you can de assemble them and store them away, when not in use. For cleaning, just wipe them with a wet cloth and they are good to go
Plus one to your workouts – Sometime work out on the hard floor can be a bit annoying and uneasy for your back, our EVA stable foam mats are designed with premium cushioned foam that can really improve your workout experience
Tear resistant – Our EVA flooring tiles or Yoga and Gym are heavy duty and tear resistant, and comes with edging strips (border) to increase the shelf life of the product
FK sports introducing the EVA soft foam mats for an addition to your workout or Yoga space. This interlocking floor mat is really easy to install and the cushion layer makes it really soft and comfortable and can be easily picked up and moved to a different place and you need no additional flooring.
Customizable- Build your desired space! With our interlocking EVA Yoga mats, you can reduce or increase the number of mats according to space available for the activity.
No matter you use our flooring mats in Gym for benches, or Basement for tools, our high density foam will guard the floor from unwanted damages and reduce noise during workouts.
Easy to assemble, store and clean- Eva stable mats are made with interlocking puzzle design, you don't need any glue or adhesive to join them. They are really lightweight and easy to handle and you can de assemble them and store them away, when not in use. For cleaning, just wipe them with a wet cloth and they are good to go.
Plus one to your workouts – Sometime work out on the hard floor can be a bit annoying and uneasy for your back, our EVA stable foam mats are designed with premium cushioned foam that can really improve your workout experience.
Key Features-
✔Durable EVA foam (zero toxic phthalates)
✔Versatile use (Garage, basement, utilities room, home gym)
✔Flooring guard
✔Cushioned and comfortable
✔Child-friendly (Non-slip)
✔Noise reduction
✔Quick installation
✔Space saving
✔Hassle-free cleaning
✔With edging strips (border)
✔Color options available
✔Spill proof
Dimensions- 600mm x 600mmx 25mm
| | |
| --- | --- |
| SKU: | B0CND4R4MB |
| Weight: | 2.8 kg |
| Dimensions: | 60 x 60 x 2.5 cm; 2.8 Kilograms |
| Brand: | fk sports |
| Colour: | Blue |
| Colour: | Blue |