Electronic Calendar Writing Board, DC 5V ABS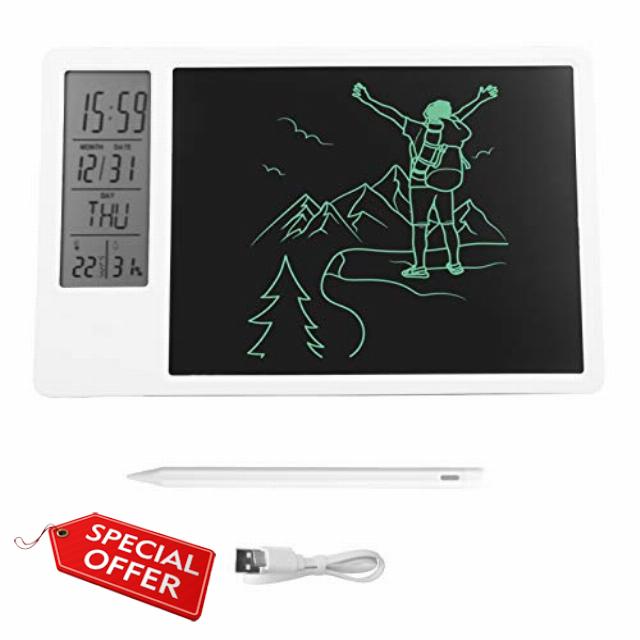 Electronic Calendar Writing Board, DC 5V ABS Desktop Digital Display Handwriting Drawing Tablet for Home, Office
Desktop Calendar LCD Handwriting Tablet is environmentally friendly and reusable, no dust, no ink, pressure-sensitive writing, ultra-clear handwriting, magnetic adsorption, practical and easy to use, smooth writing surface provides you with a comfortable and streak-free writing experience.
Desktop calendar LCD handwriting tablet with accurate time display, 12/24 hour system can be switched as needed, can display date, day of the week, year, can set alarm clock, is a multi-functional assistant. Feature-rich, suitable for school, office, home and so on.
With the e-calendar function, you can write itineraries and set alarms on the desktop calendar handwriting tablet, you can easily plan and schedule daily, weekly or monthly activities, make sure you won't any important appointments or meetings, solve the pain of easy to forget.
The back support of this desktop electronic calendar writing pad allows it to stand on the desktop, which is both beautiful and practical, and is equipped with a one-touch clear and reuse function, which greatly improves your work efficiency and helps you stay organized and focused.
The desktop electronic calendar writing tablet can accurately display the current temperature and humidity in real time, and the temperature can be displayed in Celsius or Fahrenheit upon request. At home, it can be used for daily messages, recording things, alarm reminders and other life scenarios, and it is also suitable for various work scenarios such as calculating work, work memos, group discussions, small blackboards and other work scenarios.
---
Product Description
-ELECTRONIC CALENDAR FUNCTION: Plan your daily, weekly or monthly activities easily with this handwritten desk calendar. Record itineraries and set alarms to ensure important appointments and meetings are not missed. Say goodbye to the time of forgetting with this handy tool.
Specification:
| | |
| --- | --- |
| Item Type: | Electronic Calendar Writing Board |
| Input Interface: | Type-C |
| Model: | ZH-10 |
| Input: | DC5V |
| CD Screen Size: | Approx. 103 x 40mm / 4.1 x 1.6in |
| Handwriting Screen Size: | Approx. 192 x 146mm / 7.6 x 5.7in |
| Time Accuracy: | ±1 Second/day |
| Temperature Accuracy: | 0.1℃ |
| Temperature Range: | -50℃-70℃ |
| Humidity Accuracy: | 1% |
| Humidity Range: | 10%RH-99%RH |
| Working Voltage: | 3V |
| Automatic Cycle: | 10 Seconds |
| Battery: | Lithium battery 402020, 120mAh |
| Charging Time: | 90 Minutes |
| Package List: | 1 x User Manual 1 x Type-C Cable 1 x Handwriting Board 1 x Stylus |