Electric Ear Wax Removal Kit, Multi-Functional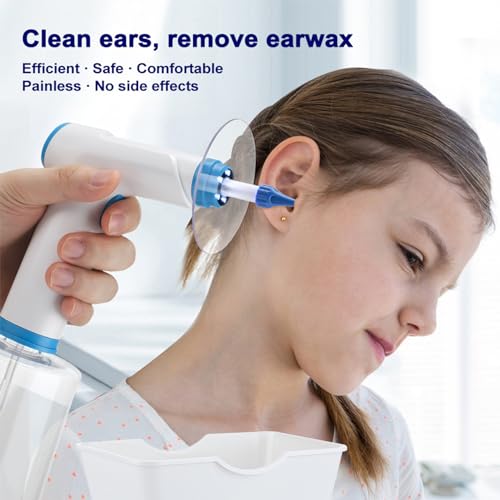 Electric Ear Wax Removal Kit, Multi-Functional 4-Modes Water Ear Wax Removal Kit, Complete Ear Cleaning Irrigation Kit, Ear Wax Remover for Adults and Kids Jacekee
↪Large Capacity: The electric ear cleaner has a 500ml container that can meet the needs of a single ear cleaning without the need to add water frequently. It also comes with a variety of accessories
↪4 gears: Achieve the perfect clean for your ears with our electric ear cleaner's 4 adjustable gears. Each gear is designed to target different degrees of ear canal obstruction, catering to different groups of people.
↪Long Battery Life: Keep cleaning your ears for up to 6 months without the hassle of frequent charging. Our electric ear cleaner boasts a built-in 2000mAh lithium battery, which comes with a USB charging cable for easy and convenient charging.
↪Ear Canal Health: This multifunctional electric ear cleaner can effectively remove earwax and improve ear canal blockage, making your ears feel more comfortable and relieving ear discomfort.
↪With replaceable nozzles: Ensure the hygiene of your family's ear cleaning process with this electric ear cleaner that provides a painless, side-effect-free ear irrigation system. Equipped with replaceable nozzles, it's safe and hygienic for everyone to use.
›
Keep your family's ears clean and healthy with our Water Ear Cleaner. Choose the corresponding gear for each member and enjoy a battery life of up to 6 months. With powerful suction, our ear cleaner can effectively remove earwax, ensuring safe and hygienic ear cleaning for the whole family.

Specification:
Name: electric ear wax removal kit
Material: ABS+silica gel
Working voltage: 3.55-4.2V
Indicator color: white, red, green
Continuous working time: After fully charged, about 8.5 hours in the first gear and about 4 hours in the fourth gear;
Product rate power: 1.5W
Product charging voltage: 5V±0.25V
Current: 800mA±30mA (charging when the battery is discharged)
Charging time: about 2.5 hours
Waterproof function: The product is not waterproof, and the area in contact with the bottle mouth is waterproof
Charging method: Type-c charging cable charging method charging
Product size: 17.2*15.4*4.7cm/6.77*6.06*1.85inches

List:
Electric Ear Cleaner*1
Instruction Manual*1
Charging Cable*1
Nozzle*10
Basin*1
Towel*1
Water Retaining Disc*1
| | |
| --- | --- |
| SKU: | B0CL43N5W9 |
| Pack Quantity: | 1 |
| Quantity: | 1 |
| Reference: | KJQE5FE6ID7G7DROAJ |