EKSA Gaming Headset for PC PS5 PS4, Wired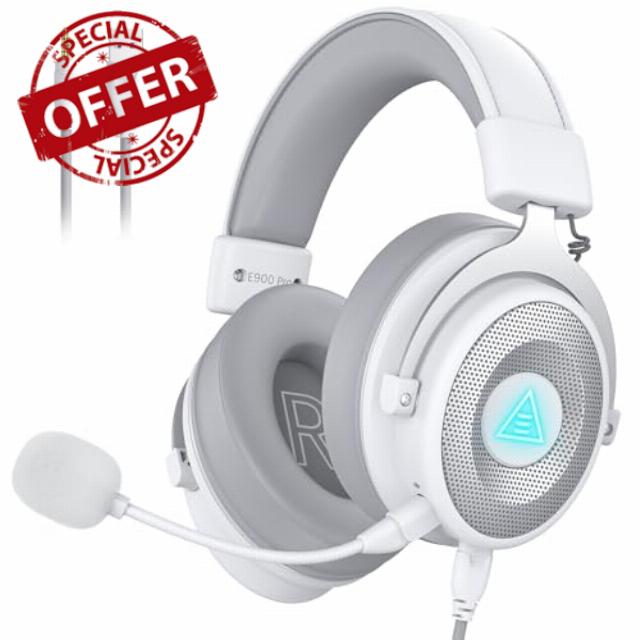 EKSA Gaming Headset for PC PS5 PS4, Wired Headphones with Detachable Noise Cancelling Mic, 7.1 Surround Sound, USB & 3.5mm Cable, LED Light, Over-Ear Gaming Headphones for Xbox One/Switch/Laptop White
【Removable USB & 3.5 mm Jack】The E900 Pro gaming headset comes with a USB cable, a 3.5 mm audio cable, and a Y splitter cable, providing versatility and compatibility with a wide range of devices, is compatible with PS4, PS5, Xbox One, PC, Switch, Laptop, and computer thanks to its interchangeable cables, offering a hassle-free plug-and-play experience.
【Immersive 7.1 Virtual Surround Sound】The 7.1 surround sound enhances your gaming experience by immersing you in a world of audio. It amplifies subtle in-game sounds, music, and effects from all directions, allowing you to pinpoint enemy locations, anticipate surprise attacks, and gain a competitive edge. It's like stepping into your own immersive gaming universe.
【Detachable Noise-Cancelling Microphone】The EKSA E900 Pro gaming headphones feature a high-sensitivity, unidirectional noise-canceling microphone that effectively reduces background noise while ensuring clear voice capture. They excel in delivering precise sound imaging, making them ideal for in-game chat, Skype calls, work, and study sessions.
【All-Day Comfort】The adjustable headband is carefully designed for your comfort, providing a balanced weight distribution and reducing the clamping force on your head. The soft memory protein earmuffs further enhance comfort, ensuring that even during extended gaming sessions. Buit in a convenient one-touch mic mute switch, this 7.1 wired headphone ensures seamless gaming operations.
【50mm Powerful Drivers】With custom-made 50 mm neodymium audio drivers, this EKSA headset with microphone encompasses the entire spectrum of sounds crucial for your battlefield experience. It stands by your side through every fight, assisting you in crafting your very own heroic saga.
---
Product Description
Built in Button

All Day Comfort