DKIEI 6 Ton Hydraulic Press, Hydraulic Floor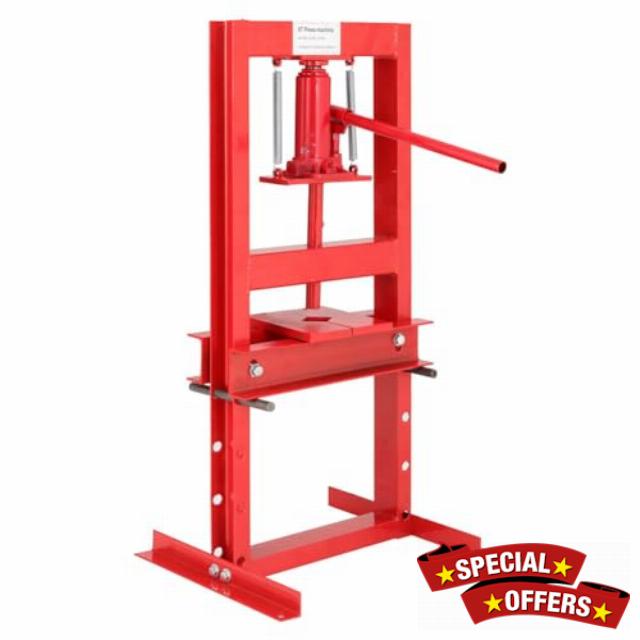 DKIEI 6 Ton Hydraulic Press, Hydraulic Floor Workshop Press, Height Adjustable, Up to 335mm Working Range, Heavy Duty Standing Press for Workshop Garage(Red)
【6-Ton Strong Loading Capacity】Super load capacity, our hydraulic press is the perfect tool for removing and installing automobile bushings, bearings, ball joints, U-joints, pulleys, gears, and more. This press can also be used for metalworking tasks like bending, straightening, and stamping. Comes with two movable stamping plates.
【Heavy Duty Stable Construction】The H-shaped frame structure provides a sturdy base that won't wobble or shake during use. Hydraulic press itself weighs 28KG and has a 2.5mm carbon steel body that can handle even the toughest jobs. The inclusion of thickened springs ensures a robust pulling force and fast oil return.
【Adjustable Height】Our hydraulic floor workshop press features an adjustable working table with 4 holes on each side, you can according to your specific needs and projects easily find the perfect working height for a comfortable and efficient experience, and with a sleek powder-coated finish, the surface of the shop press is corrosion-resistant, and a breeze to clean
【User-friendly Operation】Operating our hydraulic press is a breeze thanks to the convenient pin system. Simply press or lift the long handle of the bottle jack to easily apply the necessary force. And the pressure of the bottle jack can be opened or closed by turning the knob on it.
【Responsible After Sales】Your security and satisfaction are our top priorities! We offer two years warranty service, any questions please feel free to contact us. Please ensure all parts are fully secured before use.
›
Hydraulic presses are made of high-quality iron with a rust-resistant polished coating, corrosion and rust-resistant, sturdy and durable, and can be used for repairing motors and valves and metal working, etc.

Product Information:
Material: Iron
Colour: Black/Red

6 ton Hydraulic presses:
Dimensions:445 x 450 x 1010MM
Working range:0 – 335 MM
Oil Tripod Stroke:110MM
Internal width:390MM
12 ton Hydraulic presses:
Dimensions:575*500*1205MM
Working range:0-810MM
Oil Tripod Stroke:125MM
Internal width:420MM
20 ton Hydraulic presses:
Dimensions:660*600*1490MM
Working range:0-915mm
Oil Tripod Stroke:145MM
Internal width:503MM
Colour: Black/Red


| | |
| --- | --- |
| SKU: | B0CK2TR6KH |
| Brand: | DKIEI |
| Manufacture: | DKIEI |
| Reference: | YLJR-06 |