Dark Brown Full Grain Leather Apron Butcher Apron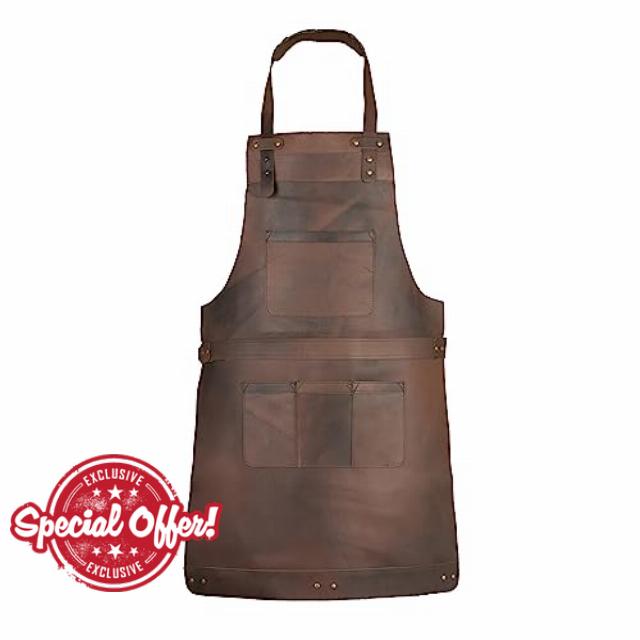 Dark Brown Full Grain Leather Apron Butcher Apron -Cook Apron -BBQ Apron -Cooking Apron – Wood work Apron – Cheff Apron – BBq Grill Gift – DIY Apron – Grill Apro
The Leather Apron is a timeless and versatile accessory that combines functionality with a touch of sophistication. Crafted from high-quality leather, this apron exudes durability, style, and a rugged charm that appeals to a wide range of professionals and hobbyists.
The main body of the apron is meticulously crafted from genuine leather, known for its exceptional strength and longevity. The leather provides excellent resistance against wear and tear, ensuring that the apron can withstand the demands of various work environments. Its inherent durability allows it to protect your clothing from stains, spills, and minor abrasions, making it an ideal choice for artisans, craftsmen, baristas, bartenders, chefs, and more.
The leather apron is designed with both practicality and aesthetics in mind. It features multiple pockets strategically placed to provide ample storage for your tools, utensils, or any essentials you need to keep close at hand. The pockets not only add functionality but also enhance the apron's visual appeal, creating an attractive and organized look.
The adjustable leather straps allow for a customizable fit, ensuring optimal comfort and flexibility for wearers of different body types. The straps secure the apron firmly in place, enabling unrestricted movement during your tasks while maintaining a professional appearance.
The natural characteristics of leather lend a unique and individualized touch to each apron. Over time, the leather develops a rich patina, giving it a distinctive look that reflects its journey and the experiences shared with it. This aging process adds to the apron's character and further enhances its overall appeal.
Whether you're working in a workshop, a kitchen, a café, or pursuing any creative endeavor, the Leather Apron is a reliable companion. Its combination of durability, functionality, and timeless style makes it a practical and fashionable choice. Invest in this apron, and you'll have a versatile and enduring accessory that not only protects your clothing but also elevates your workwear aesthetic.