Cute Plush Toy Stuffed Animal Hand Warmer Hot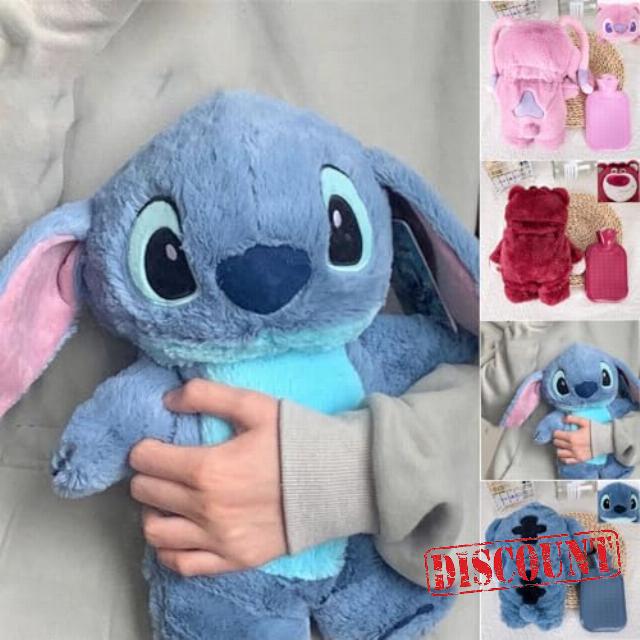 Cute Plush Toy Stuffed Animal Hand Warmer Hot Water Bottle Portable Hot Water Bottle Plush Cartoon Character Hand Warmer (A)
✅Durable & Safety – Hot water bottle is made of rubber to ensure maximum safety and transfer the heat perfectly, keeps the water warm for a longer time. To be more safety, the temperature of the hot water should not exceed 80 degrees celsius
✅Comfortable Plush Waist Cover – Comes with a plush waist cover, designed with super soft double insert, keep warm to your hands and waist at the same time. Helps to prevent the heat from contacting your skin directly, which can cause burns
✅Multi-functional Usage – Our hot water bottle bag works great for pain relieving, arthritis, sports injuries. Hot therapy helps to relax your tired muscles and tensed shoulders from stress and too much workout. They can also be used for cold therapy, easy fill in cold water or crushed ice
✅Wide Bottle Nozzle – Comes with an anti-squirt stopper, safety and easily let water in and out, prevent water spitting back out. Our hot water bottle maximum capacity 900ml, suggested to fill to two-third
✅Great Gift & Random Color – It can be used as cold compress for kids with fever. Helps to improve blood circulation, ease menstrual pain and feel more relex during the special period

Irresistible Design: Our Cute Plush Toy Hand Warmer features a delightful cartoon character design that will capture the hearts of both children and adults. Its charming appearance adds a touch of whimsy to any setting.

Double Functionality: This product is not just a plush toy but also a hand warmer. Inside the plush, you'll find a portable hot water bottle that can be filled with hot water to provide soothing warmth for hours. Perfect for keeping your hands toasty during cold weather.

Superior Quality: Crafted from high-quality, soft, and durable materials, this plush toy is designed to stand the test of time. Its premium stitching ensures that it can withstand regular use without wear and tear.

Convenient and Portable: The hot water bottle can be easily removed and filled with hot water, making it a portable heating solution wherever you go. Whether you're at home, the office, or on a winter adventure, this hand warmer is your reliable source of warmth.

Easy to Use: Filling the hot water bottle is a breeze, and its secure seal prevents leaks. The plush cover is also removable and machine washable, ensuring cleanliness and longevity.

Versatile Comfort: Not only can you warm your hands with this plush toy, but it can also be used as a gentle heat source for aches, pains, or even as a comforting companion when you're feeling under the weather.

A Perfect Gift: Looking for a unique and thoughtful gift? This Cute Plush Toy Stuffed Animal Hand Warmer is a fantastic choice for birthdays, holidays, or any occasion. It's sure to bring a smile to anyone's face.
| | |
| --- | --- |
| SKU: | B0CN2VHB3K |
| Brand: | Generic |
| Origin: | China |