BQKOZFIN Universal Speaker Stands 1 Pair, Desktop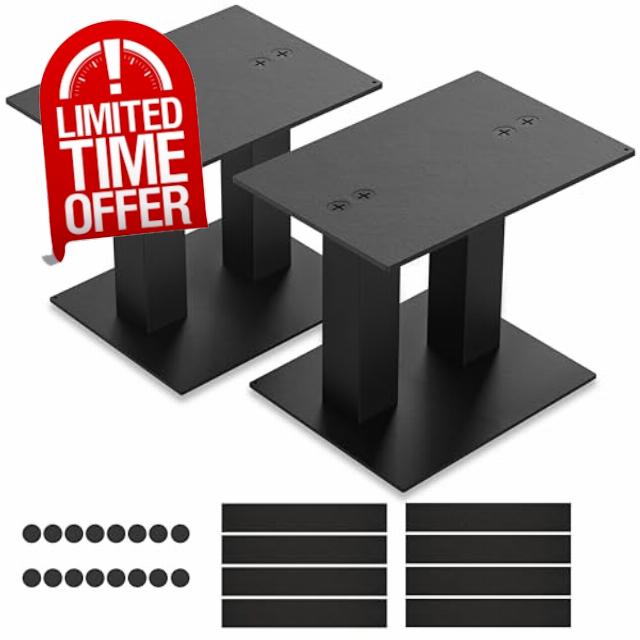 BQKOZFIN Universal Speaker Stands 1 Pair, Desktop Metal Monitor Audio Speaker Stands for Surround Sound & Book Shelf Speakers (Large)
【Product Dimensions】Top plate: 8.3 x 9.5 Inch (21 x 24CM), Bottom plate: 8.3 x 9.5 Inch (21 x 24CM), Height: 9.8 Inch (25CM), making them the ideal height for your speakers. Capturing every frequency your speakers have to offer by bringing their tweeters closer to ear-level.
【Strong Load Capacity】Boasting a large top plate to support most standard studio monitors & speakers, speaker stands can keep your desk neater and more organized. They also support speakers up to 30 lbs.
【Two Column Support】The speaker stand's top plate size are comfortably fit your preferred speakers. Each plate features 2 mounting holes to secure compatible speakers in place. Unique double column supports design, stand more steadily and lift it easily with one hand when moving.
【Universal Speaker Stands】Ideal for sound technicians, wedding or event DJs, or desktop gaming these heavy-duty speaker stands eliminate vibration and resonance for clearer, more accurate sounds for true audiophiles.
【Sound-Absorbing Silicone Feet】Each of our satellite speaker stands come with flexible silicone rubber feet that help absorb shocks, bouncing, or vibrations on deck surfaces to eliminate cracks and pops when producing bass or treble. If you have any questions after receiving the product, please contact us in time, thank you for your support!
---
Product Description