Bonacell Wireless Controller For Xbox One S/X Pc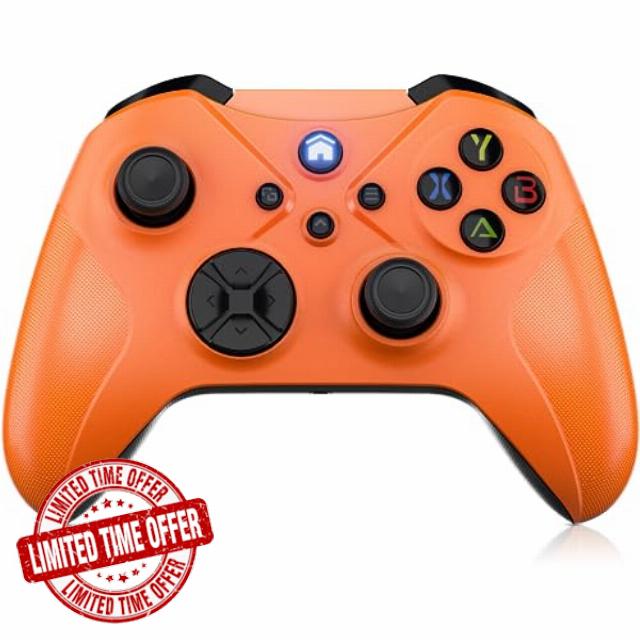 Bonacell Wireless Controller For Xbox One S/X Pc Gamepad With WIFI/Programming/Vibration/3.5mm Audio Jack/Turbo/6-Axis Gyroscope Compatible with Xbox Series S/X/PC/Android/ios
[Broad Compatibility]The wireless controller For xbox one replace is compatible with most platforms such as xbox One S/X/Series/PC/Android/ios(supports replacement original 1st and 2nd generation adapters),with Bluetooth/WIFI/Wired function for long receiving distance about 390Inch(10m) ,not easy disconnection.
[3D Realistic Gaming Experience]The controller For xbox one is equipped with a 3.5mm stereo audio jack , as well as built-in dual-motor vibration and 6-Axis Gyroscope,Ultra-real trigger feel allowing you to immerse yourself in the game in all directions.(Note: If the trigger is stuck, you can press it hard again)
[One-click Wake up And Turbo]After the controller pairing is successful, short press the'Home'button of the controller for 1s can wake up your console, which perfectly replaces the original controller. It also supports the Turbo function and programming buttons, making it easier for you to play games.
[High-sensitivity Joystick] The wireless controller For xbox one adopts uniquely designed joystick and buttons,and built-in new high-performance chip, the joystick neither drift nor delay,allows players to control the game more precisely while enjoying a new experience without lag.
[Comfortable Grip] The wireless controller For xbox one is made of anti-sweat and anti-skid materials, which is very ergonomically designed, and the contour curve can completely fit the palm of the hand, making you feel that everything is under your control; package content: controller*1, manual *1, type-c cable *1, if you have any questions, please contact us.
---
Product Description
To set the programming button
Programming buttons: (PL/PR/SET)
1. press the SET button for 3 seconds, the channel light flashes slowly to indicate that the handle has entered programming mode and the motor vibrates as a prompt
2. press any action button you wish to program (assign), the channel light flashes quickly when the button is pressed and flashes slowly when released, note the time the button was pressed and lifted, and press the PL /PR on the back after recording Each button, the channel light will always be on and the motor will vibrate to indicate that the button programming was successful. At this time, the selected programming trigger button (PL/PR) is a macro button (macro programming can record up to 16 key values).
Delete macro programming function:
Press the STE setting button alone for 3 seconds, press the PL/PR setting button alone for 3 seconds.