Bandai Tamagotchi Uni Blue Shell | Tamagotchi Uni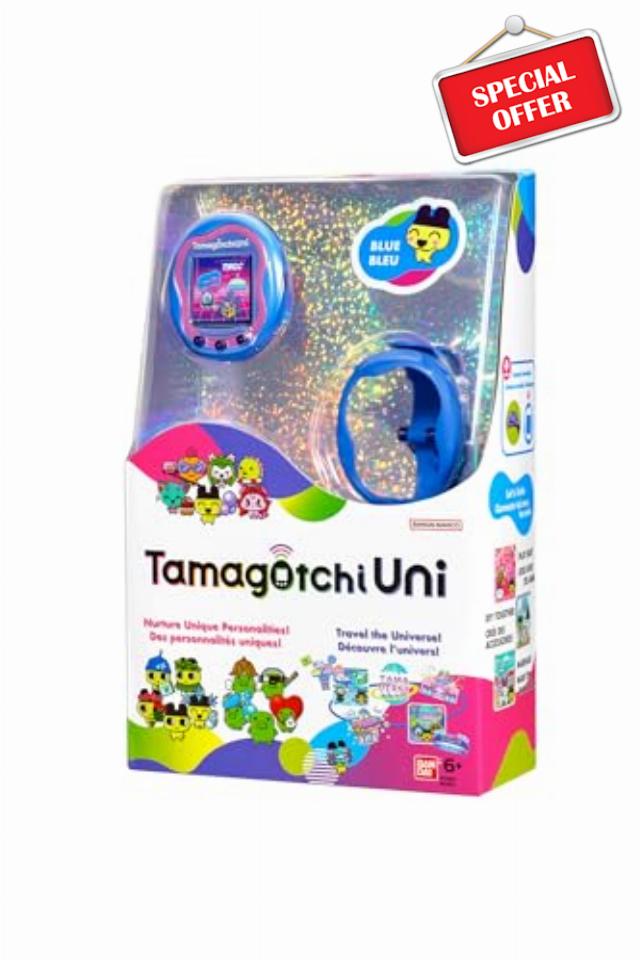 Bandai Tamagotchi Uni Blue Shell | Tamagotchi Uni The Next Generation of Virtual Reality Pet conecting to the Tamaverse|Virtual Pets Are Great Boys And Girls Toys Or Gifts For Ages 6+
UNIVERSAL. Link to the world through the Tamaverse where you can meet characters from around the world, sample global fashions and share your UniTama's style, go on globetrotting adventures and meet the partner of your UniTama's dreams and get married!
UNIQUE. Raise a UniTama that's one-of-a-kind, inside and out, with unique personalities, accessories and decorating.
UNITED. Connect Tamagotchi Uni devices to play together, craft together, exchange items and propose! Wi-Fi allows for updates for exclusive download items and new Tamaverse areas. Parental controls available.
WEARABLE. Wear it on your wrist with the included blue band to take it with you wherever you go and to interact in new ways! Has a blue shell with blue and pink, blue buttons and a blue-translucent back.
MINI GAMES. Match your characters move in the Dance game, serve hamburgers in the Fast Food game and enjoy a seasonal game to earn Gotchi points to order food delivery, go shopping at the Tama Mall and more!
›
Tamagotchi Uni is the newest generation of your favourite interactive virtual pet with a blue shell and allows fans to connect in a completely new way – the Tamaverse! The Tamaverse is the metaverse of the Tamagotchi world allowing fans from around the globe to play together in the Tama Arena, Tama Party, Tama Fashion and Tama Travel! While maintaining its core Tamagotchi attributes of nurturing, communication, portability, and gaming, your virtual pet is better than ever – it's more Unique, United and Universal! Tamagotchi Uni also has various new features allowing fans their own unique experience, including DIY activities, exploring with your character and an in-device social platform. You can connect with your friend's Tamagotchi Uni to go on playdates, give and receive gifts and even marry! Plus, the Tamagotchi Uni comes with a pink band so you can wear it on your wrist to take it wherever you go and interact with your UniTama in an all-new way! Comes with a rechargeable battery and USB-C cord. Ages 6+
Safety Warning
Warning. Not suitable for children under 6 years.
| | |
| --- | --- |
| SKU: | B0CJYNKF7H |
| Dimensions: | 5.5 x 2 x 6 cm; 52 Grams |
| Model: | NT43353 |
| Material: | Plastic |
| Colour: | Tamagotchi Uni Blue |
| Pack Quantity: | 1 |
| Batteries Required: | No |
| Batteries Included: | Yes |
| Age: | 6 years and up |
| Assembly: | No |
| Colour: | Tamagotchi Uni Blue |
| Material: | Plastic |
| Quantity: | 1 |