Baby Travel Cot Bed Mattress | Extra Thick |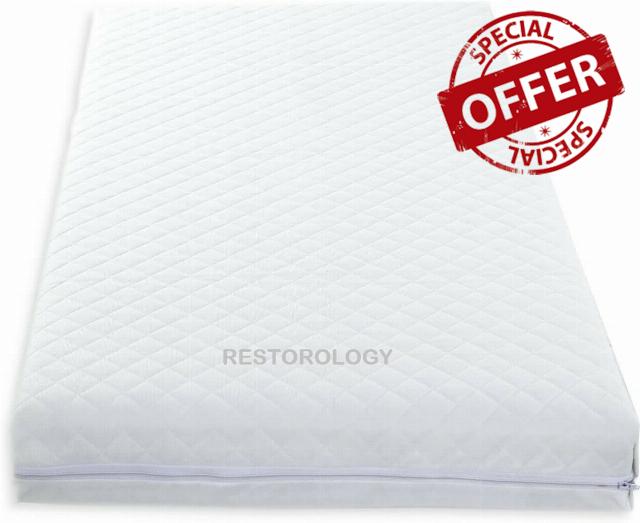 Baby Travel Cot Bed Mattress | Extra Thick | Double Sided Quilted Washable – Removable Zip Cover | Made in UK (90 x 52 x 13 cm)
✅ Soft and Comfortable: Baby Cot Bed Mattresses are fully breathable and eco-friendly which is for comfortable sleep for the baby.
✅ Choice of Sizes: Fits Cot/Toddler beds. Fits Mamas and Papas, John Lewis & Mother Care Cot beds and many more. Suitable for 0-48 months.
✅ Great Features: Air Permeable, Breathable mattress, Anti-Dust mite. Easy to remove, luxury hypoallergenic quilted cover that is machine washable.
✅ Safety: 25-28 grade safe baby foam, Complies with British Bedding Standards Part 10, Complies with Fire Safety Standards.
✅ Made in England: Professionally manufactured mattress in the UK to meet the latest British Standards
Air Permeable, Breathable mattress, Anti-Dust mite. Easy to remove, luxury hypoallergenic quilted cover that is machine washable
This Cot mattress can be the most accommodating addition to your collection by offering extraordinary support and relaxation as compared to regular mattresses. High quality at an affordable price, range consists of various sizes.
Mattress Features
Waterproof (fabric cover is waterproof)
Cover is also Quilted / increases Baby's comfortable sleep
Double Stitched inside out / Over-Locked Stitching
Pure Foam Mattress (NO Hazardous Springs)
Air Permeable
Breathable mattress
Anti-Dust mite
25-28 grade safe baby foam
Hypo Allergic [no springs means no bed bugs]
Removable / Washable Zip Cover
Sizes Available:
90 x 50 x 13 cm
90 x 52 x 13 cm
93 x 64 x 13 cm
95 x 65 x 13 cm
100 x 70 x 13 cm
110 x 54 x 13 cm
117x 54 x 13 cm
118 x 56 x 13 cm
120 x 60 x 13 cm
127 x 63 x 13 cm
133 x 71 x 13 cm
140 x 70 x 13 cm
160 x 70 x 13 cm
160 x 80 x 13 cm
Mattress using information:
Superb comfort & support. Contains high grade nursery foam, then covered in waterproof liner to stop liquids from penetrating the core.
Water resistant but breathable and removable for washing in case of any accidental spillages.
Buyer must leave the mattress open for over 18+ hours so that it gets back in shape (it is sent folded) 1-cm variation is possible, it's foam, it stretches and compresses Leave the mattress in a room with windows open, sometimes ironing odour lurks in the fabric.
Complies with British Bedding Standards Part 10 and Fire Safety Standards.
***Note: This listing is for Mattress only, you are paying for Mattress only and COT is not included***
| | |
| --- | --- |
| SKU: | B0CM23ZTZ4 |
| Weight: | 250 g |
| Dimensions: | 90 x 52 x 13 cm; 250 Grams |
| Brand: | Restorology |
| Model: | COT 500 |
| Colour: | White |
| Colour: | White |