Avatar: Frontiers of Pandora Limited Edition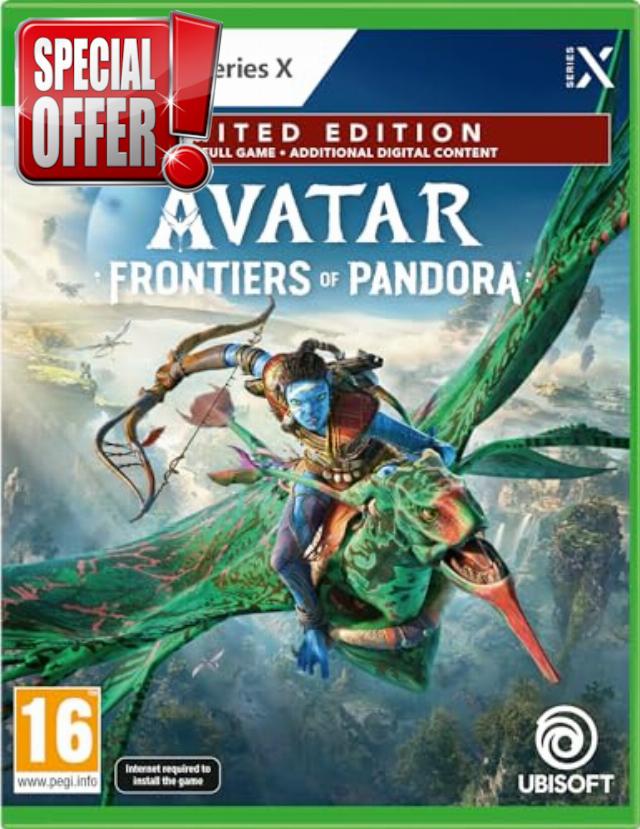 Avatar: Frontiers of Pandora Limited Edition (Exclusive to warehousediscounts.net) (Xbox X)
Pre-order Avatar: Frontiers of Pandora to receive the Child of Two Worlds Pack including a character cosmetic set and a weapon skin!*
Enhance your game experience with the Limited Edition and get access to the Sarentu Hunter Equipment Pack including one unique weapon and one character gear set.
Harness your incredible strength and agility while customizing your character; crafting new gear, and upgrading skills and weapons to fit your playstyle.
Bond with your own personal banshee that will give you an edge in aerial combat and can be used for traveling across the vast Western Frontier.
Fight off the dangers of Pandora as you embrace the precision of traditional Na'vi weapons, including your bow and spear-thrower, or leverage your human training with more destructive weapons, such as an assault rifle or a shotgun.
Play the full story campaign in single-player or with a friend online in two-player co-op.
*Offer available while supplies last. Limited quantities available.
**Ubisoft Account required.
Avatar: Frontiers of Pandora is a first-person, action-adventure game set in the Western Frontier. Abducted by the human militaristic corporation known as the RDA, you, a Na'vi, were molded to serve their purpose. Fifteen years later, you are free, but find yourself a stranger in your birthplace. Reconnect with your lost heritage and discover what it truly means to be Na'vi as you join other clans to protect Pandora from the RDA.
---
From the manufacturer
The Limited Edition includes an exclusive Equipment Pack
The Limited Edition includes the Sarentu Hunter Equipment Pack including: One Character Gear Set One Unique Weapon
Pre-Order to get the Child of Two Worlds Pack content includes a character cosmetic set and weapon skin