artfone 4G Unlocked Flip Mobile Phone for Seniors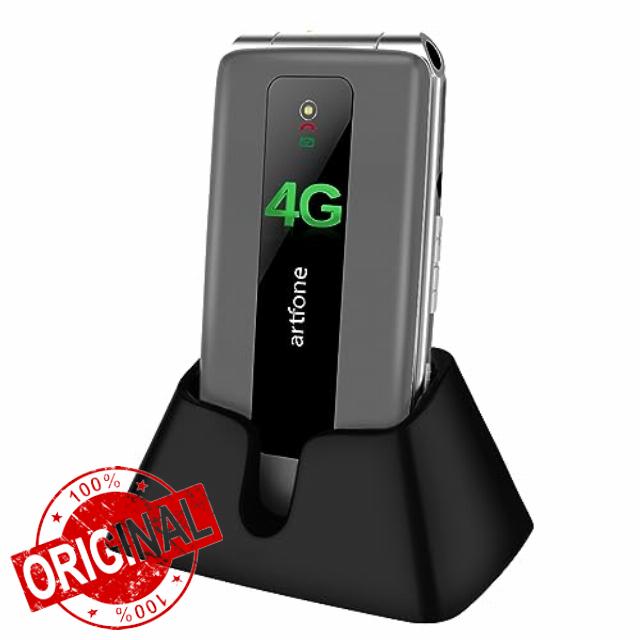 artfone 4G Unlocked Flip Mobile Phone for Seniors Big Button Mobile Phone F30 for Elderly with Talking Number Keys, Assistance Button and USB-C Charging Dock 2.4″ LCD Display FM Radio | Torch
4G Flip Mobile Phone with 2.4 inch Color Display: Enjoy a classic clamshell design that looks fashionable and elegant, and fits in every pocket. The phone can be unlocked easily by opening the cover, making it very user-friendly for the elderly. The HD color display has large font and clear menu icon, making the operation much easier for elderly people.
1000 mAh Large Capacity Battery & Networks: Stay connected with any mobile network provider that supports 2G, 3G, or 4G networks. The phone comes with an updated rechargeable lithium battery that supports talking time up to 4-5 hours, standby time up to 200 hours, and a charging station and a cable that charge faster and more safely.
SOS Emergency Button & Flashlight: Be prepared for any emergency with a large button on the back that can dial up to 5 SOS numbers and send text messages for immediate help from your family or friends. The flashlight button on the right side can help you see better in the dark, and the A/ B / C button can quickly dial the frequently used numbers.
Designed Especially for Seniors: Experience a big button cell phone that is easy to read and press, with amazingly high volume and clear sound that are hearing-friendly for the elderly. The voice function when pressing the number keys can avoid errors, and the voice and menu language support English, German, Italian, French and Spanish, making it perfectly suitable for seniors, parents or children.
More Additional Functions: Enjoy a variety of features that make your life more convenient and fun, such as making calls, dual sim design, SMS, Bluetooth, FM, calculator, alarm, calendar, audio player, sound recorder, emergency button, video player, speed dial, picture viewer, airplane mode, wallpaper, LCD backlight, magnifier, keyboard light, and support for micro SD card up to 32GB.