ARCELI Quest 3 Head Strap with Battery – 6000mAh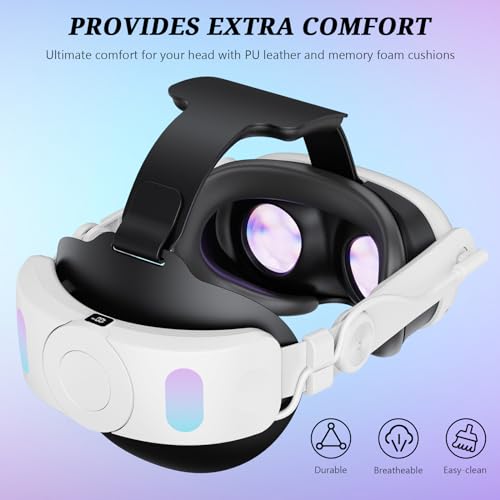 ARCELI Quest 3 Head Strap with Battery – 6000mAh Adjustable Quest 3 Battery Strap with One-click Release Button & Digital Display, Quest 3 Elite Strap for Enhanced Support and Comfo
【Newest 6000mah Head Strap For Meta Quest 3 】The ARCELI head strap for Meta Quest 3 with a built-in 6000mAh battery extends the playtime by 3-3.5 hours and has a digital power display to know the remaining power accurately at any time, allowing you to experience the VR world immersively!
✨【One-Touch Release Head Strap】The Quest 3 head strap adopts the latest button + knob design to provide a more convenient gaming experience. The VR head strap can be released with one touch via the back button, very easy to put on and take off. Adjustable hinges and user-friendly knob can be adjusted to fit everyone's head circumference.
【Provide Maximum Comfort】The elite strap is ergonomically designed with a wider head pad to distribute weight and reduce pressure on the face and head. The head cushion is made of memory foam on the inside and premium PU leather on the outside, very soft, breathable, sweat-proof, removable, and easy to clean, allowing you to enjoy the VR world comfortably!
【Safety Always Comes First】The elite strap for oculus quest 3 has a built-in smart chip with battery protection, overheating protection, overcurrent protection, overvoltage protection, and overcharge protection to ensure the safety of you and your Quest 3 when using this product, so you can use it with confidence.
【Durable & Stable】The retractable side straps of the head strap are made of high-quality polymer material with high elasticity and toughness, which passes the 100000 times bending test, so you don't have to worry about the Quest 3 headstrap being damaged or deformed. With the strongest buckle design, the headstrap won't fall off or come loose even during VR workouts, running, and other strenuous activities.
【60° Flippable Design】When you need to take a quick look at your surroundings or check your mobile phone, you can flip up the VR headset without removing it, very convenient and fast. Whether you wear glasses or not, this strap for the VR Quest 3 headset will provide you with a hassle-free wearing experience. It is designed to fit every gamer and makes a great gift for VR gaming enthusiast friends and family!
---
Product Description