AMVR Controller Grips Compatible with Oculus/Meta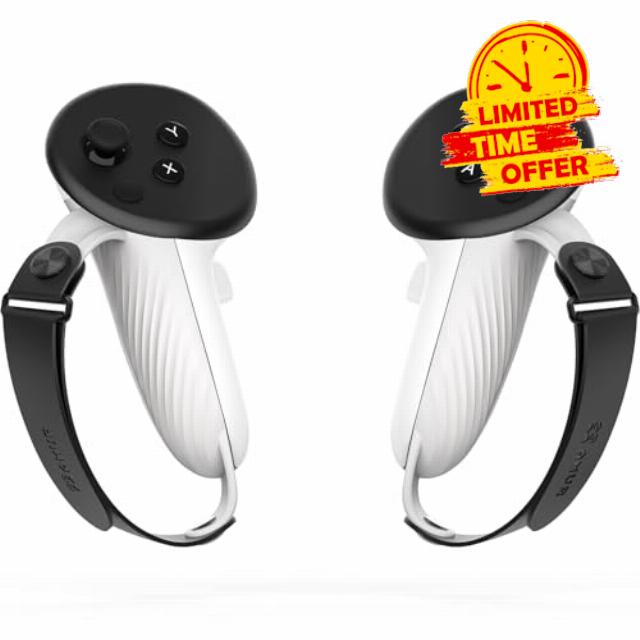 AMVR Controller Grips Compatible with Oculus/Meta Quest 3 Accessories, Silicone Non-slip Handle Cover, Adjustable Soft Hand Strap Fits for Big and Small Hands, Protect Your Controllers (1 Pair)
Protect Your Controller: The AMVR controller grip cover fits perfectly with the Quest 3 controller. The added knuckle strap prevents you from accidentally throwing the controller. When you release your hand, your controller still fits firmly into your palm.
Non-slip and Durable: The textured design of silicone increases grip and ventilation, and the controller can be firmly grasped without slipping when the hand sweats. The velcro strips of the hand straps have been tested over 3000 times for stickiness and still work well.
Suitable for Small and Large Hands: The adjustable velcro strip fits all hand sizes, and the humanized design at the end of the controller grip makes it easy to press all the buttons. You can share the fun of VR with your family and friends.
Comfortable, 100% Signal: The controller strap is made of soft, lightweight silicone and cool, skin-friendly PU leather. It does not block any infrared tracking leds. Comfortable touch and steady signal will greatly enhance your VR gaming experience.
Easy to Install and Replace The Battery: The handle cover has the same design as the original controller cover. Its integrated design allows you to complete the installation in two steps and replace the battery in one more step. Even children can do it alone.
After-sales Worry Free: Package includes 2x controller grip covers with knuckle straps, 1x user manual; 12 months warranty from the date of purchase. If you have any questions after receiving the product, please feel free to contact us and we will try our best to help you solve it.(NOTE: This product can not work with the charging dock since it doesn't have enough room for rechargeable batteries!!!)
---
Product Description
Protect Your Controllers
This grip will effectively protect your controllers, whether you open your hand to relax or accidentally drop them
Easy to Press All Buttons

The part of the controller connecting cover is ergonomically designed, easy to press all the buttons

Durable Velcro Strips

After 3000 stickiness tests, Velcro strips still work well

100% Signal

It does not touch signal points, preventing signal loss from affecting your experience

Texture Design

The silicone material has a soft feel, and the texture design has good anti-slip and ventilation

2-step Installation

1. Remove the original controller cover

2. Install grip cover on the controller and hear a 'click'
1
Easy to Press All Buttons
2
Durable Velcro Strips
3
100% Signal
4
Texture Design
5
2-step Installation
Controller Grips Compatible with QUEST 3
The same design as the original controller cover, thin and small, easy to replace the battery
Is this suitable for small hands?
Yes, it has velcro strips with adjustable lengths that fit both big and small hands.
Is it comfortable to use?
Yes, it's comfortable. The grip cover is soft and breathable silicone, and the strap is covered in smooth PU leather that feels like seal skin.
Has anyone noticed any tracking issues?
No tracking issue. It does not cover any tracking infrared leds.
Can i use both the knuckle strap and the wrist strap together?
Yes, It can keep wrist strap on the controller since it has same design as the original controller cover.
Will this work with Meta charging dock?
No, this controller grip can not work with the official charging dock since it doesn't have enough room for rechargeable batteries!!!