Saphe Drive Pro Car alarm system | Warns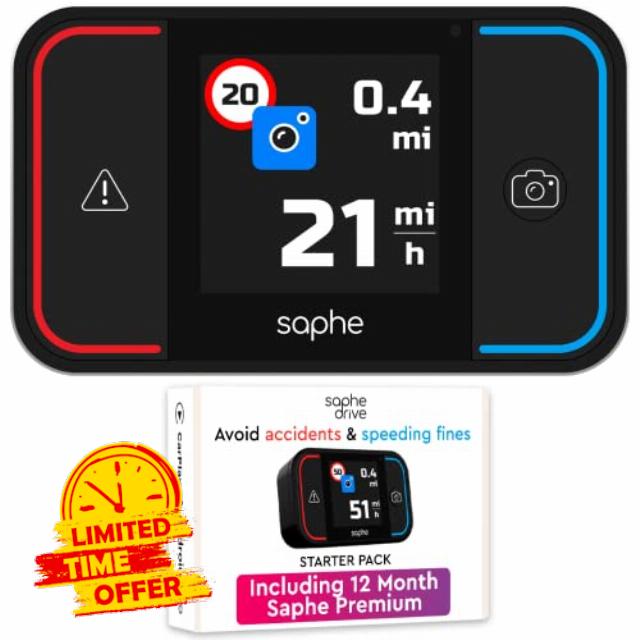 Saphe Drive Pro Car alarm system | Warns about speed camera and road hazards| Connection via Bluetooth| Requires subscription (12 months included)
SPEED ALERT – Saphe Drive Pro radar detector gives you the best driving experience. Using clear icons on the 1.54-inch color display and a warning tone, the popular traffic alarm reports which obstacles you need to be aware of on the road, shows the current distance to the obstacle and your current speed.
GET A BETTER OVERVIEW – The better overview you have of what is happening on the road ahead, the safer you can be on the road. Thanks to its compatibility with Android Auto and Apple Carplay, you get exactly that with the Saphe Drive Pro. You also get numerous functions such as navigation and the display of speed limits on all major roads and all motorways throughout UK.
REQUIRES SUBSCRIPTION (12 MONTHS INCLUDED) – Saphe Drive Pro requires a £2.99 monthly or £29.99 annual subscription to Saphe Premium. Saphe Premium gives you access to use Saphe as a sat nav coupled with Apple CarPlay and Android Auto. Because of the subscription, you can be sure that your device is always fully updated.
BLUETOOTH – The Saphe Drive Pro radar detectors for cars starts automatically as soon as you start driving. Just activate Bluetooth on your smartphone and the speed camera detector can be connected to your smartphone. You will receive precise information via the sharp color screen. The alert icons will turn off once the danger has passed.
DATA FROM MILLIONS OF DRIVERS – Benefit from extensive coverage, with data from the entire Saphe community, one of the largest traffic communities in Europe
---
Product Description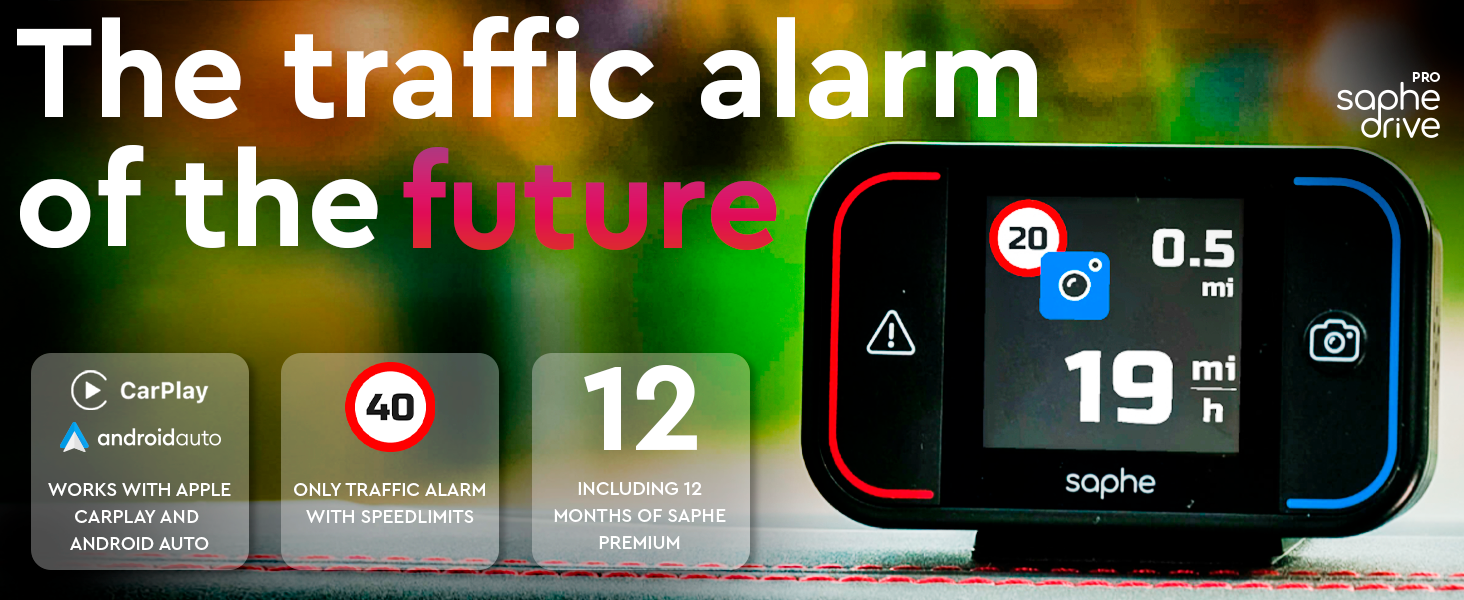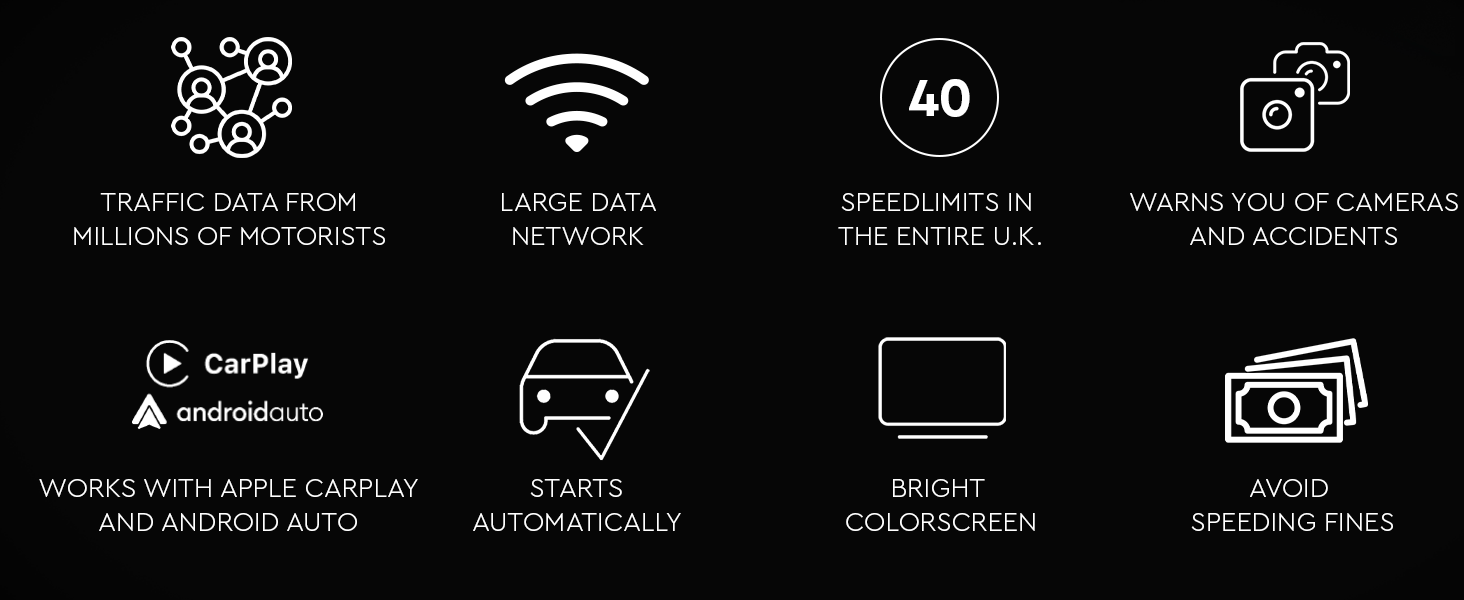 Intuitive colour screen. Always ready.




The colour screen provides essential and more accurate information about everything you encounter on the road in a clear and concise way. It has never been easier to be prepared for unexpected situations in traffic and to warn other road users.

Speed limits are displayed




No more doubts about what speed you are allowed to drive on your stretch of road. As both the permitted speed and your current speed are displayed, you can actively monitor your speed and adjust it to the respective limits. You will be warned if you are traveling too fast.

Maximum visibility with Android Auto and Apple CarPlay




With Android Auto or Apple CarPlay, display all alerts and information on your vehicle's big screen to better support your overall safety and driving. The better the overview of what's happening on the road, the safer you can move forward.
Traffic data from millions

One of the largest transport communities in Europe with data from many millions of drivers.

Starts automatically

As soon as the car is set in motion, the traffic alarm automatically connects via Bluetooth

Razor-sharp colour screen

Receive clear warnings, both visually and by sound, of speed cameras and accidents ahead.

Warns of all speed cameras

With a Saphe traffic alert you get access to more than 100,000 fixed speed cameras, among others

Easy installation and use

Download our app Saphe Link App and connect via Bluetooth
1
Data from millions
2
Starts automatically
3
Razor-sharp colour screen
4
Speed camera warnings
5
Easy installation
Saphe speed camera detector comparison
Saphe One+

Real-time warnings

Real-time warnings with acoustic and visual signals

Real-time warnings

Real-time warnings with acoustic and visual signals

Real-time warnings

Real-time warnings with acoustic signals

Starts automatically

Starts automatically with every ride

Starts automatically

Starts automatically with every ride

Starts automatically

Starts automatically with every ride

Colour display

The traffic alarm has a 1.54 inch colour display.

Colour display

The traffic alarm has a 0.97 inch colour display.

Apple CarPlay and Android Auto

Possibility to connect the app to Apple CarPlay or Android Auto

Speed limits

See speed limits on larger UK roads and motorways
| | |
| --- | --- |
| iOS version | iPhone iOS 14.0 or newer |
| Android version | Android 6.0 or higher |
| Huawei & Windows | Saphe is not compatible with some Google services of Huawei smartphones as well as Windows smartphones. |
| Battery | The built-in rechargeable battery lasts approx. 100 hours (depending on use and temperature) before it needs to be recharged for the first time for at least 8 hours. |
| Charging cable not included | Use a standard household micro USB cable for charging. |