Kaichenyt 12 Inch Children's Bicycle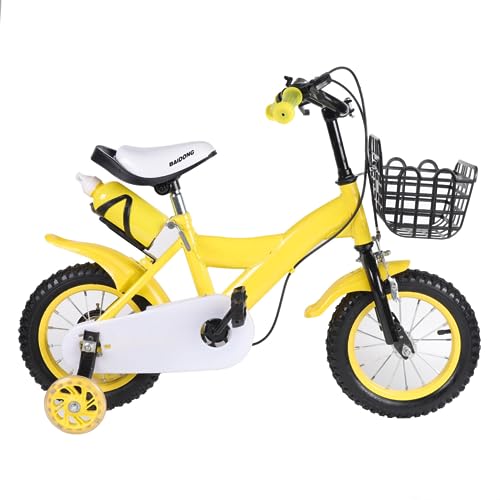 Kaichenyt 12 Inch Children's Bicycle Adjustable Seat Height and Double Brake Children's Bicycle with Additional Wheels and Storage Basket Suitable for Children from 3-6 Years
Safe driving: the bike is equipped with double brakes at the front and back, which make braking safer and effectively increase safety. The tyres of the bike are thicker and wider to ensure better traction and stability.
Thoughtful Design The kids bike is ergonomically designed and features a safety triangle and a wear-resistant jockey wheel. The bicycle handle is equipped with convex particles that effectively prevent slipping of the hands. The closed chain cover effectively prevents mud and water from splashing on the clothes.
High stability: the thickened wall of the frame tube ensures higher load capacity and stability while riding. The safety triangle structure of the bicycle is of high stability, strength, durability and earthquake resistance. So the child will not fall due to the deformation of the surface of the wheel.
Equipped with a storage basket: the bike has a storage basket on the front and a shelf under the saddle at the back of the bike, which can store small items or bicycle accessories to facilitate daily use.
High Durability The frame of the is made of high quality carbon steel, which has good rust and wear resistance, making it durable.
The 12 inch children's bike is suitable for children who ride indoors and outdoors.

Description
The 12 inch children's bicycle in bright yellow looks stylish and immediately attracts attention. With its ergonomic design, safety triangle and wear-resistant jockey wheel, it offers a high level of riding comfort. The bike has two front and rear brakes that make braking safer and effectively increase safety. The tyres of the bike are thicker and wider and provide more traction and stability. The 12 inch children's bike is suitable for children who ride indoors and outdoors.

Specification
Seat material: faux leather.
Pedal material: plastic.
Brakes: front and rear.
Bike Material: Carbon Steel
Colour: yellow.
Weight: 7 kg / 15.43 lbs.
Size: 12 in/30.48 cm.

Package includes:
1 x 12 inch children's bicycle
| | |
| --- | --- |
| SKU: | B0CDPYNZ3X |
| Size: | 12ZOLL |
| Brand: | Kaichenyt |
| Colour: | Yellow |
| Manufacture: | WUHUY888 |
| Colour: | Yellow |
| Department: | Unisex Baby |
| Department: | Unisex Baby |
| Size: | 12ZOLL |