Gallant Atomic Free Standing Punch Bag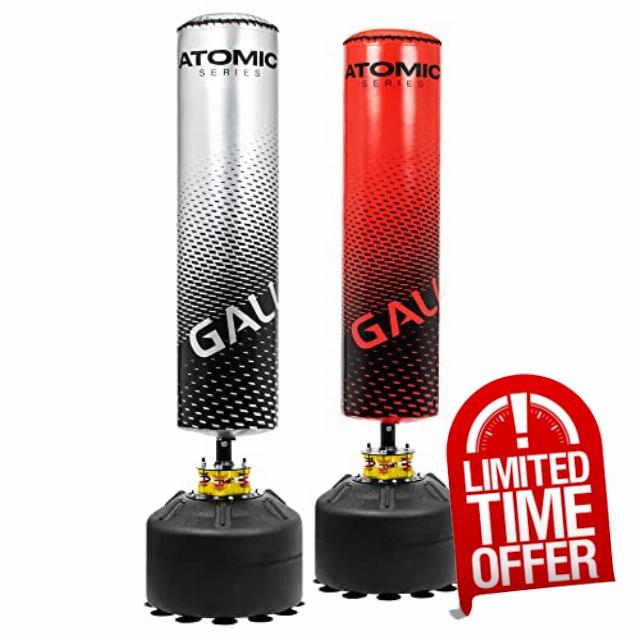 Gallant Atomic Free Standing Punch Bag – Heavy-Duty 5.7ft Boxing Punch Bag Spring Loaded Base Free Standing Punching bag For Adults, Boxing, Kickboxing, Martial Arts, Home Gym Training
Long lasting and durable – Gallant punching bag free standing is made with 5CM thick EPE foam to absorb shocks effectively. This free standing punching bag adult has high quality durable PU leather to help prevent any cracking from consistent and intense usage.
Easy and quick assembly – Our punch bag free standing is easy to assemble. With two separate parts that quickly fit together, you can start boxing and punching in no time. The punching bag is 5.7ft tall, offering you a great range to strike.
Versatile punching bag – This Free standing boxing bag is mess-free, requires no ceiling hangings, creates no holes in walls, and is for outdoor and indoor training. This Punch bag is ideal for boxing, martial arts, MMA kickboxing, and fitness workouts.
Sturdy base – The narrow base of punch bag stays in place and makes it easy to move. This free standing punch bag features a spring loaded base that keeps the bag sturdy and swing-free. Simply fill the base with water or sand and you can start training.
Easy returns – Gallant free standing punch bag is very handy for your boxing and training sessions.It is Available in 2 colors; silver and red. We provide convenient and efficient return options for any items that don't meet your satisfaction, ensuring a hassle-free experience.
The Atomic Free Standing Punch Bag is the ultimate training equipment for boxing enthusiasts and fitness enthusiasts alike. This robust and durable punching bag provides an unparalleled workout experience with its innovative design and high-quality construction. Designed specifically for boxing and martial arts training, this free standing punch bag offers a convenient and versatile solution for practicing strikes, punches, and kicks. Its sturdy base and adjustable height feature make it suitable for users of all ages and skill levels, whether you're a seasoned boxer or a beginner looking to improve your technique. The punch bag itself is crafted from premium-grade materials, ensuring exceptional durability and long-lasting performance. It is made from reinforced synthetic leather, designed to withstand heavy impact and frequent use without compromising its structural integrity. The bag's size and shape are optimized for optimal training, providing ample surface area for striking and absorbing blows effectively .The free standing design eliminates the need for hanging or mounting, allowing for easy setup and portability. You can place it in your home gym, garage, or even take it outdoors for an invigorating workout session. The base of the punch bag is filled with sand or water, providing stability and preventing excessive movement during intense training sessions.Whether you're looking to improve your boxing skills, enhance your fitness level, or relieve stress through intense workouts, the Atomic Free Standing Punch Bag is the perfect companion. Its versatility, durability, and user-friendly design make it an ideal choice for boxing enthusiasts and fitness enthusiasts of all ages and skill levels. Take your training to the next level with this exceptional piece of equipment.
| | |
| --- | --- |
| SKU: | B0C6MMLDLL |
| Dimensions: | 90 x 90 x 160 cm |
| Brand: | Gallant |
| Colour: | Silver |
| Manufacture: | Gallant |
| Age: | Adult |
| Colour: | Silver |
| Department: | Unisex |
| Department: | Unisex |