Freenove Mecanum Wheel Car Kit for Raspberry Pi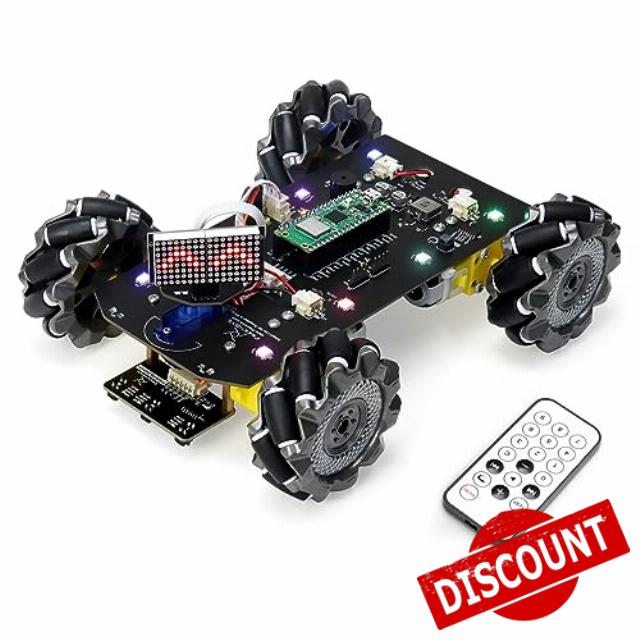 Freenove Mecanum Wheel Car Kit for Raspberry Pi Pico W (Included) (Compatible with Arduino IDE), Dot Matrix Expressions, Obstacle Avoidance, Line Tracking, Light Tracing, Colorful Light, Remote, App
This car with Mecanum wheels based on Raspberry Pi Pico can move in various incredible ways. (Assembly required. Battery NOT included.)
Provides a step-by-step assembly tutorial and complete code -> The download link can be found on the product box. (No paper tutorial.)
Control methods -> Controlled wirelessly by IR remote (included in this kit), your Android phone or tablet, iPhone and computer (run Windows or macOS).
Raspberry Pi Pico W -> A tiny, fast, and versatile board built using dual-core processor with wireless LAN. (Included in this kit.)
Needs battery -> Refer to "About_Battery.pdf" in downloaded file to buy.
›
Important Notes:

This car needs to be assembled and does NOT include battery.
(Refer to "About_Battery.pdf" in downloaded file to buy battery.)

Purchase Options:

Raspberry Pi Pico W supports wireless LAN, Raspberry Pi Pico does not.
This option includes the Raspberry Pi Pico W board. Can use phone, tablet and computer as controller.

Overview:

Raspberry Pi Pico W is a tiny, fast, and versatile board built using dual-core processor with wireless LAN.
This kit shows you how to use it as a controller to build a car.

We provide free technical support to help you with any questions and problems.

Tutorial and Code:

Comes with detailed tutorial and complete code. (Download needed, no paper tutorial.)
The download link can be found on the product box.

Remote Control:

You can use the following devices to control this car:

For Pico and Pico W:

* IR remote:
  Infrared remote with keypad. (Included in this kit.)

For Pico W only:

* Computer:
  Laptop or desktop. (Run Windows or macOS.)
  (Refer to tutorial for details.)

* Android device:
  Android phone or tablet. (Run Android 4.4 or later, installed Freenove App.)
  (Search Freenove on Google Play.)

* iPhone:
  (Run iOS 10 or later, installed Freenove App.)
  (Search Freenove on App Store.)

Package Includes:

1 x Raspberry Pi Pico W
1 x Raspberry Pi Pico (W) Car Shield
1 set Machinery Parts (4 kinds)
1 x Servo Package
4 x Driven Wheel
4 x DC Speed Reduction Motor
4 x Motor Bracket Package
1 x Line Tracking Module
1 x Dot Matrix Module
1 x Ultrasonic Module
1 x Ultrasonic Module Connector
1 x IR Remote
1 x XH-2.54-4Pin Cable
1 x XH-2.54-5Pin Cable
1 x Cross Screwdriver (3mm)
1 x Black Tape

| | |
| --- | --- |
| SKU: | B0CFF9LL9T |
| Weight: | 658 g |
| Dimensions: | 26.7 x 13.4 x 7.2 cm; 658 Grams |
| Brand: | FREENOVE |
| Model: | FNK0089 |
| Colour: | Mecanum Wheels with Raspberry Pi Pico W |
| Batteries Included: | No |
| Manufacture: | Freenove |
| Colour: | Mecanum Wheels with Raspberry Pi Pico W |