Ewent Clamp-On Desk Monitor Riser, Versatile
Ewent Clamp-On Desk Monitor Riser, Versatile Monitor Riser Stand for 10″ to 34″ Monitors, Chipboard and Steel Elevated Stand, Monitor Stand with Clamp Fastening, Three Installation Options
It is the ultimate solution for increasing your desk space without having to add additional tables or furniture. Raises the monitor to the most comfortable and ergonomic viewing position
Three installation options: side clamp, top clamp or free-standing; solid steel feet provide stable support
Stable table clamp stand for your monitor. Lets you lift your monitor to a comfortable viewing height while reducing neck fatigue
The stable stand can support up to 20 kg/44 lbs.
Design with the simplest appearance but reliable functions. The minimalist design integrates easily into modern gaming or office configurations, practical and elegant. Space-saving design: free up and gain extra workspace on your desk
Thanks to its versatility, this stand can be perfectly used to lift your devices such as a personal computer, laptop or printer, freeing up space under your desk or counter.
Material: chipboard, steel. Powder coating and melamine adhesive
Easy and Simple Installation: Installation is quick and easy; its clamp attaches easily to the desk by simply rotating the butterflies. It is the ultimate solution to increase your desk space without having to add more tables or other furniture
Features: Dimensions: 550x250x130mm – Weight Capacity: 20 Kg
WITH EWENT EVERYTHING IS SIMPLE: We understand your needs and turn them into accessories and equipment for your convenience; We offer you a wide range of useful streaming products, stands, cases, cables and much more. EWENT WARRANTY: 5-YEAR WARRANTY. The quality of the product allows us to give a 5-year guarantee, giving you confidence in the reliability of the product. This gives us the security that you will not suffer any damage during normal use. Your satisfaction is important to us.
---
From the manufacturer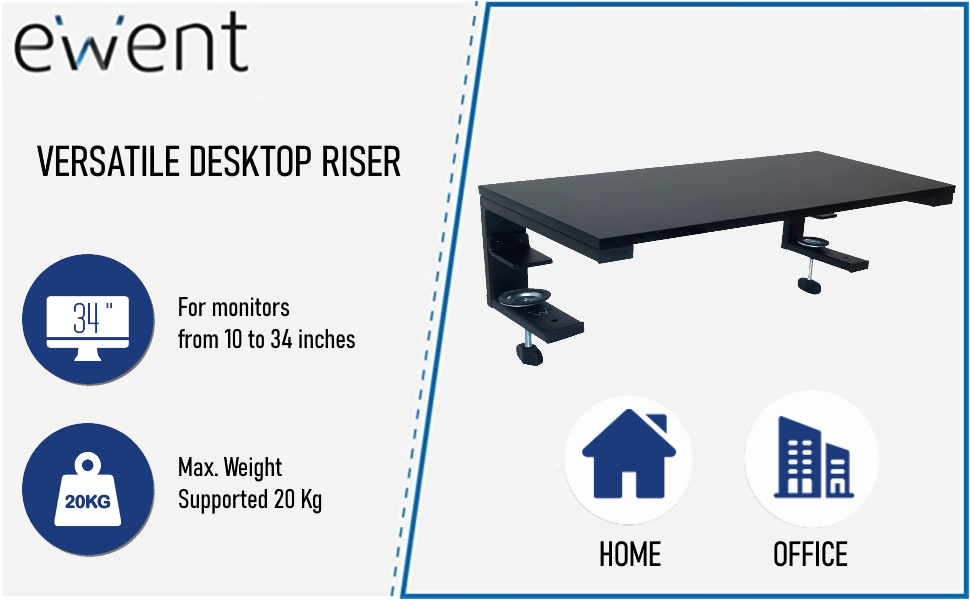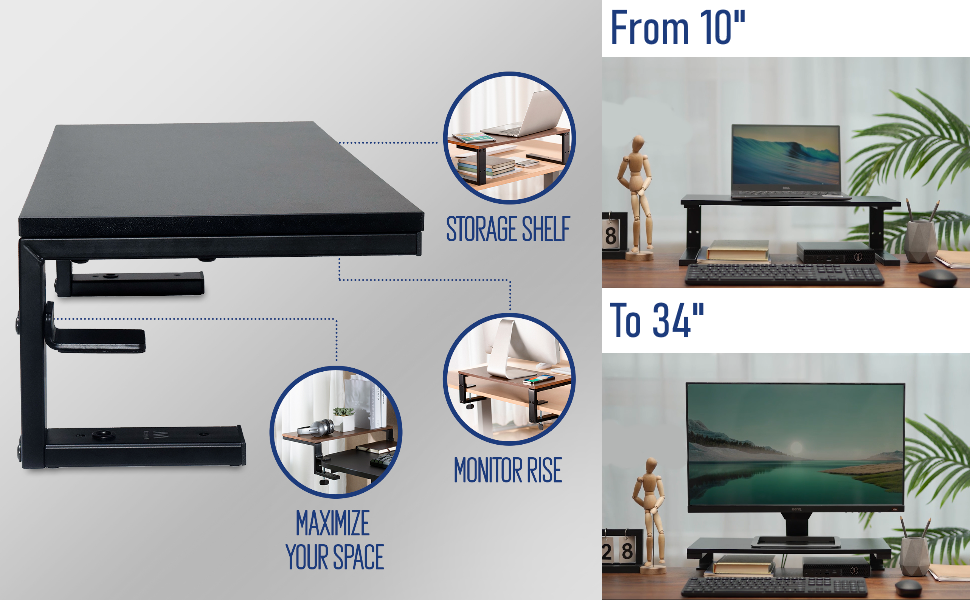 Additional Workspace
Enjoy a tidy work space with this space-saving 25.6″ x 10.2″ (65 cm x 26 cm) monitor stand. The extra wide monitor shelf provides ample space to store your monitor and desk accessories. Use the large area underneath to store a full-size keyboard and other items, keeping everything within easy reach.
Mounting type

Desk Monitor Stand

Desk Monitor Stand

Desk Monitor Stand

Mounting for min/max. screen sizes.

10-40 inches

10-34 inches

10-34 inches

Mounting

Above table

Clamp

3 options: Clamped, Freestanding, Above table

Height adjustable

From 11 to 50 cm

–

–

Dimensions

800x615x110~505mm

650x260x130mm

550x260x130mm

Weight supported

Up to 20 kg

Up to 20 kg

Up to 20 kg