AKESON Type 2 Charging Cable for Electric Cars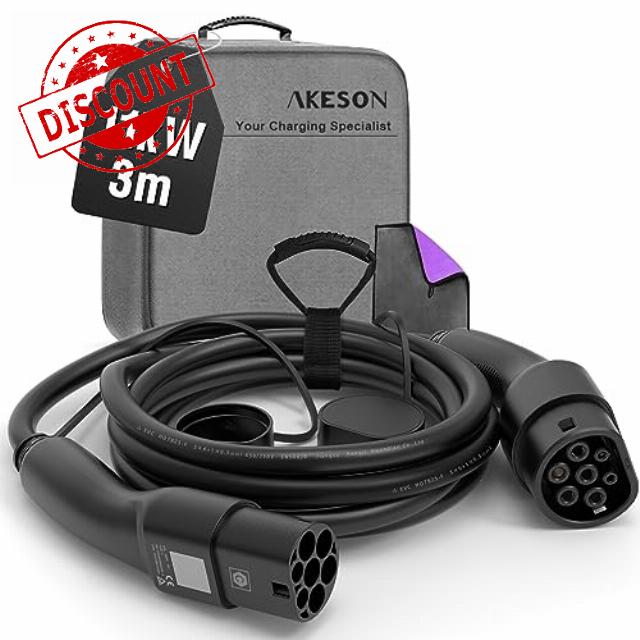 AKESON Type 2 Charging Cable for Electric Cars – 11kW, 3M, Three-Phase, 16A, IP55 Waterproof, IEC-62196-2 – Compatible with All Common Charging Stations and EVs
– Fast and Efficient Charging: The AKESON Type 2 Charging Cable is designed with a three-phase construction, allowing for fast and efficient charging with up to 11kW of power.
– Compatibility with All Charging Stations: The AKESON Type 2 Charging Cable is compatible with virtually all charging stations in Europe, the Type 2 plug complies with the EU standard (IEC-62196-2) and can be easily taken on the road.
– Safe and Robust: The charging cable has been tested to the highest safety standards and has passed 100,000 connection tests and 2-ton resistance tests. It is robust and remains intact even if accidentally run over.
– Convenient and Practical: With a cable length of 3 meters and a low weight, the AKESON Type 2 Charging Cable is easy to handle and allows for convenient charging no matter how you park.
– Sustainable Mobility: Charge your electric vehicle with clean energy and contribute to environmental protection. The AKESON Type 2 Charging Cable is a reliable accessory for electric cars that enables you to drive in an eco-friendly way.
– Package Contents: The AKESON Type 2 Charging Cable comes with a convenient carrying bag, cleaning cloth and shoulder strap, allowing you to take it with you wherever you go.
›
Portable Handbag

Our storage bags measure 340mmx340mmx80mm and are compact and portable for your maintenance and cable management. The bag has a high quality zip and it is easy to open or close.

Carrying Strap

A carrying strap for managing cables so that you can tidy them up after charging the car and avoid tripping over them. Can be carried around or hung on the wall.

Cleaning Cloth

High quality cleaning cloth for cleaning the charging cables, perfect for rainy days when you are charging your car outside and the cables get dirty from the rain, easy to keep cables dry in time.
Power
11kW
11kW
11kW
Current
16A
16A
16A
Cable Length
3m
5m
7m
Phase
3-Phase
3-Phase
3-Phase
Plug type
Type 2 to Type 2
Type 2 to Type 2
Type 2 to Type 2
Rated voltage
480V
480V
480V
IP Waterproof
IP55 (Water & Dust protection)
IP55 (Water & Dust protection)
IP55 (Water & Dust protection)
Housing fire rating
UL94 V0
UL94 V0
UL94 V0
Wire Specification
5×6+1×0.5mm² TPU
5×6+1×0.5mm² TPU
5×6+1×0.5mm² TPU
Standard & Safety
IEC 62196-2
IEC 62196-2
IEC 62196-2
Power
22kW
22kW
22kW
22kW
Current
32A
32A
32A
32A
Cable Length
3m
5m
7m
10m
Phase
3-Phase
3-Phase
3-Phase
3-Phase
Plug type
Type 2 to Type 2
Type 2 to Type 2
Type 2 to Type 2
Type 2 to Type 2
Rated voltage
480V
480V
480V
480V
IP Waterproof
IP55 (Water & Dust protection)
IP55 (Water & Dust protection)
IP55 (Water & Dust protection)
IP55 (Water & Dust protection)
Housing fire rating
UL94 V0
UL94 V0
UL94 V0
UL94 V0
Wire Specification
5×6+1×0.5mm² TPU
5×6+1×0.5mm² TPU
5×6+1×0.5mm² TPU
5×6+1×0.5mm² TPU
Standard & Safety
IEC 62196-2
IEC 62196-2
IEC 62196-2
IEC 62196-2
| | |
| --- | --- |
| SKU: | B0C3QTX8LW |
| Weight: | 1.6 kg |
| Dimensions: | 34 x 34 x 8 cm; 1.6 Kilograms |
| Brand: | AKESON |
| Manufacture: | Jiangsu Fudi New Energy Technology Co.,Ltd |
| Reference: | AK-205037503D00-2 |
---
Product Description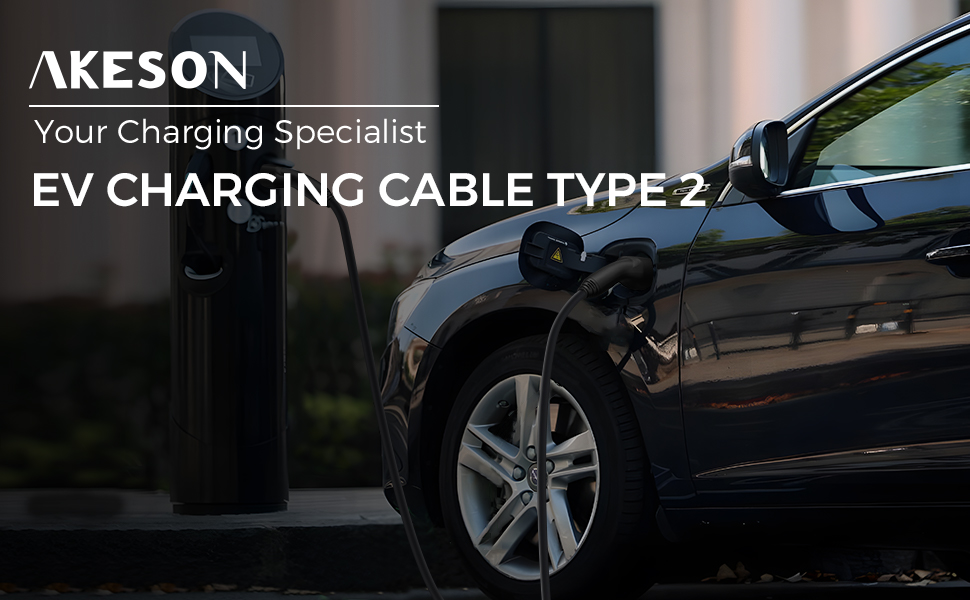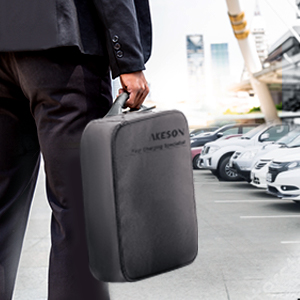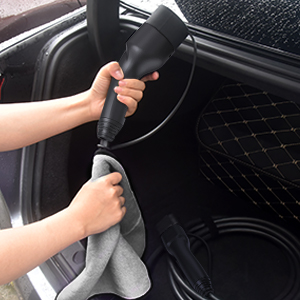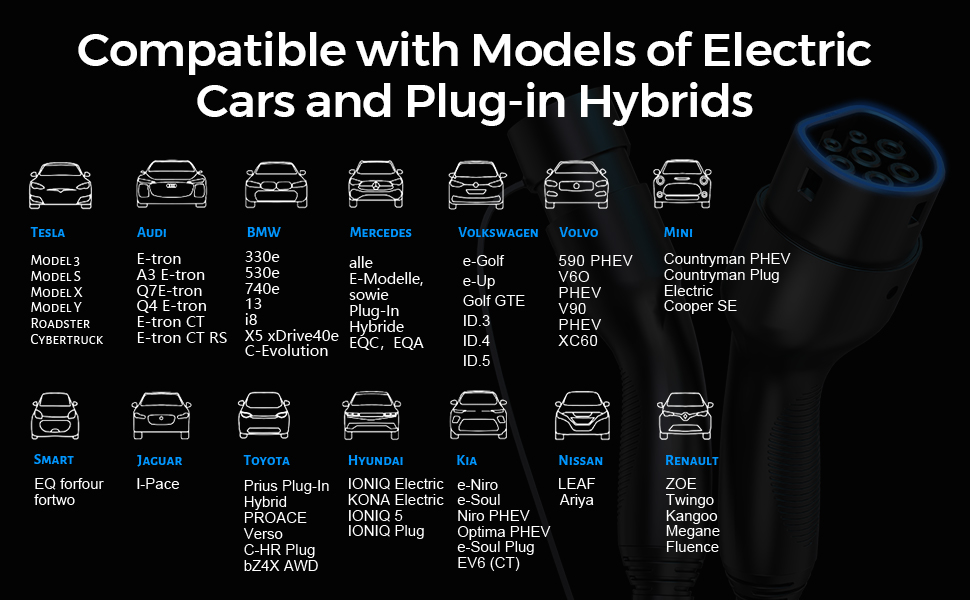 Power

11kW

11kW

11kW

Current

16A

16A

16A

Cable Length

3m

5m

7m

Phase

3-Phase

3-Phase

3-Phase

Plug type

Type 2 to Type 2

Type 2 to Type 2

Type 2 to Type 2

Rated voltage

480V

480V

480V

IP Waterproof

IP55 (Water & Dust protection)

IP55 (Water & Dust protection)

IP55 (Water & Dust protection)

Housing fire rating

UL94 V0

UL94 V0

UL94 V0

Wire Specification

5×6+1×0.5mm² TPU

5×6+1×0.5mm² TPU

5×6+1×0.5mm² TPU

Standard & Safety

IEC 62196-2

IEC 62196-2

IEC 62196-2
Power

22kW

22kW

22kW

22kW

Current

32A

32A

32A

32A

Cable Length

3m

5m

7m

10m

Phase

3-Phase

3-Phase

3-Phase

3-Phase

Plug type

Type 2 to Type 2

Type 2 to Type 2

Type 2 to Type 2

Type 2 to Type 2

Rated voltage

480V

480V

480V

480V

IP Waterproof

IP55 (Water & Dust protection)

IP55 (Water & Dust protection)

IP55 (Water & Dust protection)

IP55 (Water & Dust protection)

Housing fire rating

UL94 V0

UL94 V0

UL94 V0

UL94 V0

Wire Specification

5×6+1×0.5mm² TPU

5×6+1×0.5mm² TPU

5×6+1×0.5mm² TPU

5×6+1×0.5mm² TPU

Standard & Safety

IEC 62196-2

IEC 62196-2

IEC 62196-2

IEC 62196-2