Portable Projector Screen and Stand, Projector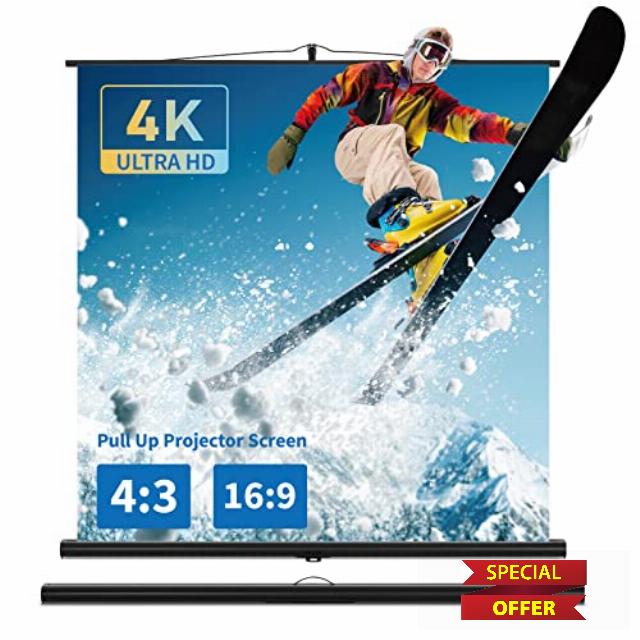 Portable Projector Screen and Stand, Projector Screen Pull Up, 60 Inch 16:9, Outdoor Projector Screen, 4K HD, Ultra Short-throw Projection Possible, Ideal for Home Theater, Business, Outdoor Movies.
PROJECTION SCREEN WTIH FLAT SURFACE: We use high-end fabric which has ultra flat surface, so that it can support ultra short-throw projection and gives you a 160 degree viewing angle.
PROJECTOR SCREEN WITH STAND. This pull up screen features a unique design for tilt adjustment and height adjustment, as well as a hidden structure for the lift handle, support leg and support rod, thus giving you an equisite product with concise design.
PORTABLE PROJECTOR SCREEN. The housing of this projector screen is made of aluminum with a compact design, it has a nice look, lightweight body and portable size, you can easily carry it and find space to store it.
AN EASY SET-UP PROJECTOR SCREEN. You can install this projector screen in less than 2 minutes with simple steps. There are two slots on the support bar for you to adjust the tilt, and a clip for you to adjust the height of this projector screen according to your environmental needs.
MULTIPLE APPLICATIONS: You can put this projector screen with stand in any indoor or outdoor venue, such as living room, garden, backyard, classroom, office, screen has 1.2 gain factors, you can enjoy the clear pictures with your family or friends all together and make a fine entertainment.
---
Product Description
Excel-PPGW133, Portable Pull-up Projector Screen